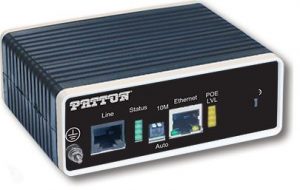 Extend your IP or T1 Network over Copper with Patton
CopperLink Ethernet Extenders and T1 Extenders
Patton Electronics' CopperLink product line been enormously successful over the past 19 years — and Patton keeps innovating for faster speeds over longer distances with more features.
There are lots of CopperLink models featured below. Some models below are end-of-life, others are new and just released.  We can cut through any confusion and help you decide which current product is the best most cost effective solution for your specific distance and bandwidth requirements.  And if you're in a hurry, we stock most current models and take orders right over the phone.
Patton 2110 Ethernet Booster
Patton 2115 T1 Extender

Patton 2158 2158A Early 10 Mbps Ethernet Extender
Patton 2168 2168A Early 16 Mbps Ethernet Extenders
Patton 2150 10 Mbps Ethernet Extender
Patton 2151 16 Mbps Ethernet Extender

Patton 2156 2.3 Mbps Long Range Ethernet Extender
Patton 2157 5.7 Mbps Long Ranger Ethernet Extender
Patton 2157R Ruggedized 2157
Patton 2160 Bonded Pair Long Range Extenders
Patton 2161 2-pair bonded Long Range Ethernet Extender
Patton 2162 4-pair bonded Long Range Ethernet Extender
Patton 2172 50 Mbps Extenders
Patton 2172R Ruggedized 2172
Patton 2173 50 Mbps Extenders
Patton 2173R Ruggedized 2173
Patton 2174 100 Mbps 4 Ethernet Ports
Patton CL1101 PoE Ethernet Extender
Patton CL1101E/IP67 Rugged Waterproof PoE Ethernet Extenders
Pattton CL1151E Dante Extender
Patton CL1211 168 Mbps Extenders
Patton CL1212 168 Mbps Extenders 2 Eth Ports
Patton CL1212E Ruggedized
Patton CL1214 168 Mbps Extenders 4 Eth Ports
Patton CL1214E Ruggedized CL1214
Patton CL1311R Long Range Ruggedized
Patton CL1314 Long Range 4 Eth Ports
Patton CL1314MDE Multi-Drop Eth Ext
Patton CL1314R Ruggedized CL1314
Patton CL2300 Long Range Bonded Pair Eth Extender
Patton CL2300E Ruggedized CL2300
Patton CL2302 2-pair bonded Long Range
Patton CL2304 4-pair bonded Long Range

Patton CL4324 24-Port Local Aggregator for Long Range Patton Extenders
Patton FP1004E FiberPlex Fiber Ethernet Extenders
Ethernet extension allows users to expand their Ethernet connections beyond the 328-foot (100-meter) Ethernet distance limitations. Ethernet extenders can establish long-range, high-speed data communication links between geographically separated LANs or LAN devices. Ethernet extenders are often employed to connect workgroups on different floors within a building.
Please call us.  We are Patton's leading distributor of CopperLink products.  We can help you.