Patton 2174
High Speed Ethernet Extenders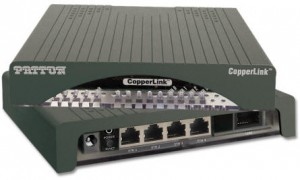 2174/BNC/EUI-2PK Kit (Local and Remote); BNC Line, 100-240VAC
2174/EUI-2PK Kit (Local and Remote); RJ45 Line, 100-240VAC
2174/TB/EUI-2PK Kit (Local and Remote); Terminal Block Line, 100-240VAC
Check for next generation CL1214/EUI-2PK
Extends Ethernet beyond the 328 ft. limit
Works over a single twisted-pair, Cat 5e/6/7, or even coaxial cable
No Fiber Optic Cable Hassles
No wireless propagation headaches
Totally Plug and Play
Mode options for wire gauge and distance
Transparent to all higher layer protocols
With these highly reliable, devices, you can now achieve speed and distance comparable to fiber — without the expense of fiber! The Patton 2174 Ethernet Extenders come with the ability to operate in one of four different "modes".
First there is the Asymmetrical Mid-Range Mode. Asymetrical configurations are well-suited for applications requiring higher downstream speeds and/or longer distances between Ethernet devices.
Second, there is the symmetrical Mid-Range Mode. This mode is Ideal for such applications as remote LAN extension, video teleconferencing, and data backhaul.
Finally you can select High Speed, and Very High Speed modes, which can give you greater bandwidth, depending on the distance between the local and remote devices and the guage of the copper used.
With the Patton 2174 Ethernet Extenders you can extend Ethernet over a single twisted pair, like old RS-232 or RS-485 circuits — or you can extend Ethernet over CAT3, CAT5, CAT6 or CAT7 — or you can even extend Ethernet over old coax cable…like old 10base-T infrastructure.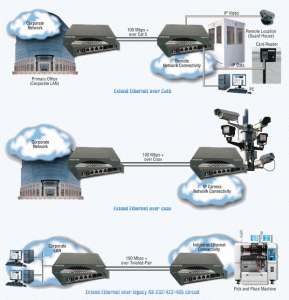 You can always call for a quick quote.
If you like the price, you can order right over the phone.