Patton Ruggedized Extended Temp
CopperLink Ethernet Extender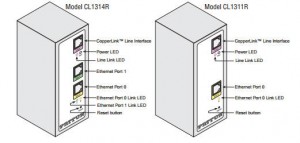 The CL1311 Ethernet Extenders are one of several Patton products designed to replace the Patton 2157R Ruggedized Long Range Ethernet Extenders.
These extended temp units are for distances in excess of one mile and are plug and play. The CL1311 units feature a SINGLE Ethernet port wheras the CL1314R ruggedized units have 2 Ethernet ports and are DIN rail mountable.
The CL1311 extenders pass all higher-layer protocols, VLAN tagging, multicast addressing, VPN pass-through for IPsec, as well as IP-video. The units are totally plug and play; simply connect up to four Ethernet devices, plug the copper twisted-pair into the extender at each end, and apply power!
High Speed Extension–Achieve speeds up to 5.7 Mbps.
Auto-rate Selection–Just plug the units in and automatically realize the maximum possible rate. Or, select the ideal user-configurable rate for your application.
CopperLink 2-Wire Connection–Easy 2-wire CopperLink connection via built-in RJ-11 port.
Transparent LAN Bridging–Transparently pass higher-layer protocols with support for 802.1Q VLAN tagging. Automatic Learning, Aging, and Filtering. Keeps local traffic local, ensuring efficient utilization of the long-range link.
CL1311R/L/E Ruggedized 5.7 Mbps CopperLink Ethernet Extender (Local); 1 x10/100; -40 to 85C; No Power Supply
CL1311R/L/EUI Ruggedized 5.7 Mbps CopperLink Ethernet Extender (Local); 1 x10/100; -40 to 85C; 100-240VAC
CL1311R/R/E Ruggedized 5.7 Mbps CopperLink Ethernet Extender (Remote); 1 x10/100; -40 to 85C; No Power Supply
CL1311R/R/EUI Ruggedized 5.7 Mbps CopperLink Ethernet Extender (Remote); 1 x10/100; -40 to 85C; 100-240VAC