Patton CopperLink 2304
2-8 Wire Bonded Ethernet Extender

CL2304/4ETH/AF/EUI-2PK
CL2304/4ETH/EUI-2PK
The Patton 2304 Ethernet sets are designed to operate at distances greater than 3/4 mile using one, two, or four twisted pair.
1 Pair: 5.7 to 15.3 Mbps
2 Pair: 11.4 to 30.6 Mbps
3 Pair: 17.1 to 45.9 Mbps
4 Pair: 22.8 to 61.2 Mbps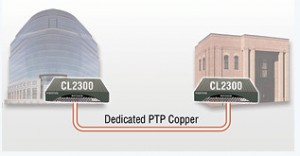 The CL2300 units are backward compatible with the 216X series and feature the Patton Trinity 3 Operating system, PoE option, SSH, Remote Management, and Stateful Firewall.
Instead of using them in pairs, they can be teamed with Patton's DSLAMs for point to multi-point applications. Click the image below to enlarge.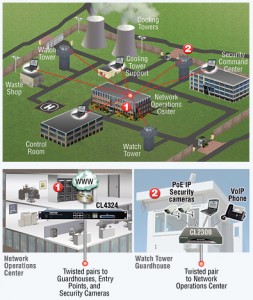 CL2304/4ETH/AF/EUI-2PK CopperLink 2-8 Wire Ethernet Extender Kit; PoE; 4 Eth; 100-240VAC
CL2304/4ETH/EUI-2PK CopperLink 2-8 Wire Ethernet Extender Kit; 4 Eth; 100-240VAC