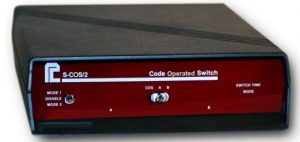 Relcomm i-COS Code Operated Switch  NEW
Provides service to multiple serial ports, typically under the control and direction of a single Master port, and four or more subordinate/Slave ports.
RelComm S-COS/2 Code Operated Switch
Switches serial communications devices between a master port and two subordinate ports. The SCOS2 is available as a stand-alone unit in an ABS plastic housing
RelComm i-PSU Port Sharing Unit
Asynchronous RS-232C and/or RS-422 Serial-In to Serial-Out Port Selector that can select one Host port from as many as 16 Devices.
RelComm ABS Automatic Backup Switch
Three switches in one package. A dedicated line and modem (promary) can share a computer's communication port with a dial-up modem (alternate).
RelComm RCL684 RS232 Current Loop Interface Converter
A bi-directional self-contained unit that enables the interconnection of a digital 20/30/60mA unipolar current-loop interface with an RS232 interface.  Current loop devices are ideal for use in noisy industrial environments.
RelComm RS449 Adapter
Adjusts between an RS449 interface and an RS232 interface to allow direct connection of both.
RelCom Serial Cable Booster
Doubles the maximum length of an RS-232C cable.  When placed in the middle of the cable,the Serial Cable Booster can more than double the maximum 50-foot cable allowed by RS-232C applications.
The RelCom SLIM Single Line Interface Module
Interfaces between RS232 and current loop serial communications ports.