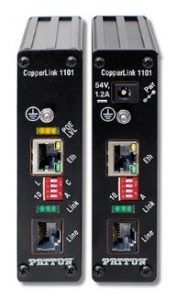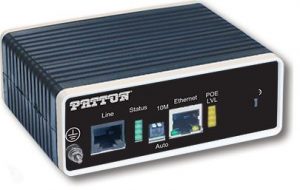 Now you can extend Ethernet & PoE with Patton's CL1101 and the CL1101E (Extended Temp) units.
With a pair of these units, the remote extender and your PoE enabled device are powered from the Ethernet cable — there is no need to locate a power source at the remote end.
PoE line power enables the distant CopperLink to power itself from the local CopperLink, and provides about 15 Watts of power to its PoE Ethernet interface. That's enough to power up just about any 802.3af-compliant or legacy PoE end point you would want to install. Not having to find a local power source is especially convenient in surveillance and public safety applications because you want to put a camera where you need to put a camera—which is not always near a power source.
Connect your copper (CAT cable or Coax) and the remote extender is automatically powered, with its own PoE output port for wireless access points, cameras, phones, or other devices as seen below: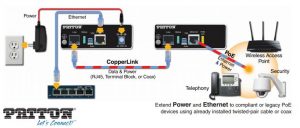 Part numbers for the standard units (2-PK means a 2-Pack kit)
CL1101/L/P/BNC/EUI
PoE Line Power Extender; 1x 10/100; RJ45 Line; 100-240VAC
CL1101/L/P/RJ45/EUI
PoE Line Power Extender; 1x 10/100; RJ45 Line; 100-240VAC
CL1101/PAFA/BNC/EUI-2PK
PoE Extender Kit; 1x 10/100; 802.3af (mode A); BNC Line; Line Powered; AC Adapter 100-240VAC
CL1101/PAFA/RJ45/EUI-2PK
PoE Extender Kit; 1x 10/100; 802.3af (mode A); RJ45 Line; Line Powered; AC Adapter 100-240VAC
CL1101/R/PAFA/BNC/E
PoE Remote Extender; 1x 10/100; 802.3af (mode A); BNC Line; Line Powered
CL1101/R/PAFA/RJ45/E
PoE Remote Extender; 1x 10/100; 802.3af (mode A); RJ45 Line; Line Powered
Part numbers for the extended temperature industrial units

CL1101E/L/P/BNC/EUI
PoE Industrial PoE Line Power Extender; 1x 10/100; BNC Line; 100-240VAC
CL1101E/L/P/RJ45/EUI
Industrial PoE Line Power Extender; 1x 10/100; RJ45 Line; 100-240VAC
CL1101E/PAFA/BNC/EUI-2PK
Industrial PoE Extender Kit; 1x 10/100; 802.3af (mode A); BNC Line; Line Powered; AC Adapter 100-240VAC
CL1101E/PAFA/RJ45/EUI-2PK
Industrial CopperLink PoE Extender Kit; 1x 10/100; 802.3af (mode A); RJ45 Line; Line Powered; AC Adapter 100-240VAC
CL1101E/R/PAFA/BNC/E
Industrial CopperLink PoE Remote Extender; 1x 10/100; 802.3af (mode A); BNC Line; Line Powered
CL1101E/R/PAFA/RJ45/E
Industrial CopperLink PoE Remote Extender; 1x 10/100; 802.3af (mode A); RJ45 Line; Line Powered
Part Numbers for IP67 Waterproof units
CL1101E/IP67/L/3CG/EUI Outdoor CopperLink PoE Local Extender; IP67; 1 x 10/100; 802.3af (mode A); 3 cable gland; 54VDC Input; 100-240VAC to DC Adapter
CL1101E/IP67/R/PAFA/3CG/E Outdoor CopperLink PoE Remote Extender; IP67; 1 x 10/100; 802.3af (mode A); 3 cable gland; Line Powered
Here are data and power connections:


CopperLink CL1101 Distance Charts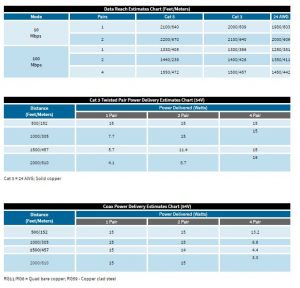 Specifications
Line Interfaces: (Data) 1 x RJ45 (Optional: Terminal Block, Coax)
Supports 1-4 pairs
Ethernet Interfaces : 1 x RJ45 Auto-Sensing 10/100Base-TX with full or half-duplex operation
LEDs : Power, Line, (10 or 100 operation), Eth, and PoE
Protocol
Transparent to high layer protocol
Supports 802.1Q VLAN tagged frames
Transparent to IP video schemes
Fully transparent to compression schemes such as WMV, MPEG-4, and MJPEG
Power Injection (PSE only)
DC voltage on Ethernet port: 54 VDC
Power Consumption : 1.5 W
Power Supply
External AC Adapter 100–240 VAC to 54 VDC
Input: 30–57 VDC (Recommended 54 VDC)
MTBF
83,043 hours
Environment
Temperature: 0 to 50°C (standard)
Humidity: 10 to 95% (non-condensing)
Physical
0.71 H x 1.1 W x 2.56 D in. (18 H x 28 W x 65 D mm)
0.78 oz (22 g)
Compliance
FCC Part 15A, Class B
CE Mark
EMC Directive 89/336/EEC
LVD Directive 73/23/EEC
We are Patton's leading CopperLink distributor.
Call for more pricing and information