Patton 2172 Industrial Ethernet Extender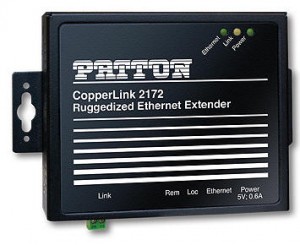 For latest generation products see Patton CL1212E
Or other Ruggedized Ethernet Extenders
All the features of the best selling Patton 2172 & more !!
The Patton 2172R utilizes pre-existing twisted pair infrastructure enabling twisted pair previously used for legacy systems such as TTL, RS232 and 422/485 to be used for extending or connect Ethernet devices together. Reusing already existing infrastructure for Ethernet Networking eliminates the cost of purchasing expensive fiber and Cat5E or greater cabling. Most importantly, it completely eliminates the hassle and sometimes overwhelming expense and downtime associated with major cable installations.
The 2172R was designed to operate in a rugged environment, with temperature ranges from -10 to 70°C, and the option for conformal coating protecting the device from condensing humidity, and operates at -10 to 80°C. The 2172R's aluminum case design allows for users to conveniently mount them either on a wall or DIN.
Operates over twisted-pair–Reduces the cost and hassles of new installations. Utilizes installed voice-grade twisted pairs to eliminate the expense of fiber or Cat5e cabling.
Plug and Play–No configuration or cable hassles during installation with auto-sensing 10/100, full or half duplex, and auto MDI-X.
Full duplex data-line rate of 100 Mbps–Provides near fiber performance for bandwidth intensive applications.
Ruggedized–Operating temperature of -10 to 70°C or -10 to 80°C for 2172/CC
Flexible installation–Wall or DIN rail mountable
2172R/CC/EUI Ruggedized 50 Mbps CopperLink Ethernet Extender; -40° to 85°C; RJ45 line, Conformal Coated; External 100-240VAC Adapter
2172R/CC/TB/EUI Ruggedized 50 Mbps CopperLink Ethernet Extender; -40° to 85°C; 2-Position Terminal Block line, Conformal Coated; Terminal Block only External 100-240VAC Adapter
2172R/E Ruggedized 50 Mbps CopperLink Ethernet Extender; -10° to 70°C; RJ45; No power supply
2172R/E48 Ruggedized 50 Mbps CopperLink Ethernet Extender; -10° to 70°C; -48VDC
2172R/EUI Ruggedized 50 Mbps CopperLink Ethernet Extender; -10° to 70°C; UI
2172R/EUI-2PK Ruggedized 50 Mbps CopperLink Ethernet Extender Kit; -10° to 70°C; RJ45 line; External 100-240VAC Adapter
2172R/TB/E Ruggedized 50 Mbps CopperLink Ethernet Extender; -10° to 70°C; No Power Supply
2172R/TB/EUI Ruggedized 50 Mbps CopperLink Ethernet Extender; Terminal block only;-10° to 70°C; UI
2172R/TB/EUI-2PK CopperLink High Speed 50 Mbps Ruggedized Ethernet Extender Kit Terminal Block (2 units preset to local and remote); 110-240VAC