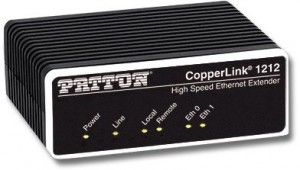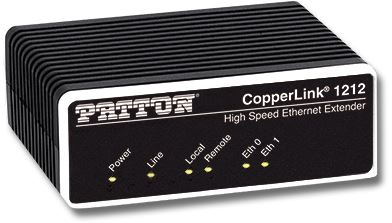 The Patton CopperLink CL1212 is a 2-Ethernet-port Ethernet Extender which utilizes Patton's legacy small form factor, and their legacy 5VDC input voltage. These are Patton's answer to customer's who didn't like Patton's larger standard, CL1214 devices which run on 12VDC and have become our best selling Ethernet Extenders.
Combining data flows from up to 2 network-enabled devices onto a single twisted pair or coax cable, the CopperLink Model CL1212 can deliver IP traffic up to 1.8 miles (3 km) away—well beyond the standard 328-foot (100-meter) Ethernet distance limitation.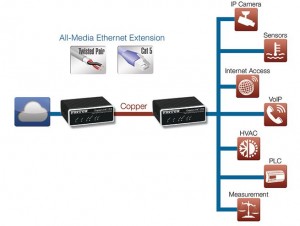 With achievable line rates up to 168 Mbps, the CL1212 eliminates the bandwidth constraints commonly experienced with other copper-based transmission technologies. The Model 1212 is engineered to re-use existing infrastructure previously employed in such legacy applications as alarm circuits, E1/T1 circuits, RS-232, RS-422, RS-485, CCTV and CATV. Many newer cabling standards are also supported, including Cat 5e, Cat 6 and Cat 7.
A built-in two-port Ethernet switch makes the CopperLink CL1212 ideal for delivering multiple IP information streams over a single cable. At a guardhouse or security kiosk for example, you could aggregate IP data from a laptop and a high-resolution IP video camera for simultaneous transmission over a single Ethernet connection.
A single-port version, the CopperLink Model CL1211 (available by special order) is ideal for applications requiring the enhanced security of a single Ethernet port.
CL1212/EUI High Speed CopperLink Ethernet Extender; 2 x 10/100BaseTX; RJ45 Line, 100-240VAC
CL1212/EUI-2PK High Speed CopperLink Ethernet Extender Kit (Local and Remote); 2 x 10/100BaseTX; RJ45 Line, 100-240VAC
CL1212/TB/EUI High Speed CopperLink Ethernet Extender; 2 x 10/100BaseTX; Terminal Block Line, 100-240VAC
CL1212/TB/EUI-2PK High Speed CopperLink Ethernet Extender Kit (Local and Remote); 2 x 10/100BaseTX; Terminal Block Line, 100-240VAC
CL1212E/CC/EUI Extended Temperature CopperLink High Speed Auto Rate Extender; 2 x 10/100BaseTX; RJ45 Line Connector; Conformal Coated; 100-240VAC
CL1212E/CC/EUI-2PK Extended Temperature CopperLink High Speed Auto Rate Extender Kit; 2 x 10/100BaseTX; RJ45 Line Connector; Conformal Coated; 100-240VAC
CL1212E/EUI Extended Temperature CopperLink High Speed Auto Rate Extender; 2 x 10/100BaseTX; RJ45 Line Connector; 100-240VAC
CL1212E/EUI-2PK Extended Temperature CopperLink High Speed Auto Rate Extender Kit (Local and Remote); 2 x 10/100BaseTX; RJ45 Line Connector; 100-240VAC
CL1212E/TB/CC/EUI Extended Temperature CopperLink High Speed Auto Rate Extender; 2 x 10/100BaseTX; Terminal Block Line Connector; Conformal Coated; 100-240VAC
CL1212E/TB/EUI Extended Temperature CopperLink High Speed Auto Rate Extender; 2 x 10/100BaseTX; Terminal Block Line Connector; 100-240VAC
CL1212E/TB/EUI-2PK Extended Temperature CopperLink High Speed Auto Rate Extender Kit (Local and Remote); 2 x 10/100BaseTX; Terminal Block Line Connector; 100-240VAC
CL1212E/TB-SKD Ethernet Extender, PCB Sub Assembly, Terminal Block Line; 2 x 10/100; No Power Supply
CL1212E-SKD Ethernet Extender, PCB Sub Assembly, RJ45 Line; 2 x 10/100; No Power Supply