Patton Hardened Ethernet Extender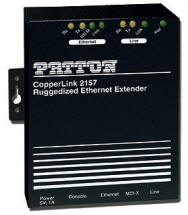 This is Patton Electronics industrial, hardened, ruggedized Ethernet Extender.
Consider the newer replacement Patton CL1314R
Consider as well the Patton CL2300E Ruggedized CL2300
Or for shorter distances, the Patton CL1212E Ruggedized
Industrial or Outdoor Applications – Works with 2157's (Indoors)
* Long distance network extension–Extension distances up to 32,000 feet (10 km) or 4.6 Mbps at 1.5 miles (2.5 km).
* Uses existing infrastructure–Utilizes installed voice-grade twisted pairs to eliminate the expense of fiber or Cat5e cabling.
* Plug and Play–No configuration or cable hassles during installation with auto-sensing 10/100, full or half duplex, and auto MDI-X.
* Auto-rate adaption–Ensures the highest rate possible for each extension distance.
* Flexible installation–Wall or DIN rail mountable
* Ruggedized–Operating temperature of -10 to 70°C or -40 to 85°C for 2157R/CC
2157R/CC/L/EUI Ruggedized 4.6 Mbps CopperLink Ethernet Extender (Local); -40° to 85°C; RJ45 line, Conformal Coated; External 100-240VAC Adapter
2157R/CC/R/EUI Ruggedized 4.6 Mbps CopperLink Ethernet Extender (Remote); -40° to 85°C; RJ45 line, Conformal Coated; External 100-240VAC Adapter
2157R/L/E48 Ruggedized 4.6 Mbps CopperLink Ethernet Extender (Local); -40° to 85°C; RJ45 line; -48 VDC Adapter
2157R/L/EUI Ruggedized 4.6 Mbps CopperLink Ethernet Extender (Local); -40° to 85°C; RJ45 line; External 100-240VAC Adapter
2157R/R/E48 Ruggedized 4.6 Mbps CopperLink Ethernet Extender (Remote); -40° to 85°C; RJ45 line; -48 VDC Adapter
2157R/R/EUI Ruggedized 4.6 Mbps CopperLink Ethernet Extender (Remote); -40° to 85°C; RJ45 line; External 100-240VAC Adapter