Patton Hardened Ethernet Extender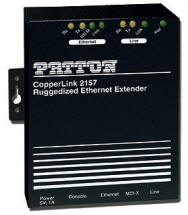 This is Patton Electronics industrial, hardened, ruggedized Ethernet Extender.  Consider the newer replacement Patton CL1314R
Industrial or Outdoor Applications – Works with 2157's (Indoors)
* Long distance network extension–Extension distances up to 32,000 feet (10 km) or 4.6 Mbps at 1.5 miles (2.5 km).
* Uses existing infrastructure–Utilizes installed voice-grade twisted pairs to eliminate the expense of fiber or Cat5e cabling.
* Plug and Play–No configuration or cable hassles during installation with auto-sensing 10/100, full or half duplex, and auto MDI-X.
* Auto-rate adaption–Ensures the highest rate possible for each extension distance.
* Flexible installation–Wall or DIN rail mountable
* Ruggedized–Operating temperature of -10 to 70°C or -40 to 85°C for 2157R/CC
2157R/CC/L/EUI Ruggedized 4.6 Mbps CopperLink Ethernet Extender (Local); -40° to 85°C; RJ45 line, Conformal Coated; External 100-240VAC Adapter
2157R/CC/R/EUI Ruggedized 4.6 Mbps CopperLink Ethernet Extender (Remote); -40° to 85°C; RJ45 line, Conformal Coated; External 100-240VAC Adapter
2157R/L/E48 Ruggedized 4.6 Mbps CopperLink Ethernet Extender (Local); -40° to 85°C; RJ45 line; -48 VDC Adapter
2157R/L/EUI Ruggedized 4.6 Mbps CopperLink Ethernet Extender (Local); -40° to 85°C; RJ45 line; External 100-240VAC Adapter
2157R/R/E48 Ruggedized 4.6 Mbps CopperLink Ethernet Extender (Remote); -40° to 85°C; RJ45 line; -48 VDC Adapter
2157R/R/EUI Ruggedized 4.6 Mbps CopperLink Ethernet Extender (Remote); -40° to 85°C; RJ45 line; External 100-240VAC Adapter