Patton CL4324
CopperLink Extended Reach Ethernet Switch

Aggregate 24 individual copper pair


The Patton Model CL4324 enables high speed network connectivity over existing cable infrastructures previously used for RS-232/422/485, POTS lines, or alarm circuits, with a 1U Rack mounted long-reach switch at the central location.
When interconnecting remote buildings and devices on large campuses, one obstacle is Ethernets distance limitation of 328 feet and the requirement for Ethernet to operate over Cat 5 or better cabling. A network administrator, ISP, or system integrator must decide how to get network connectivity to locations outside the 328-foot (100-m) radius.
Fiber is an option, but often cost prohibitive. Wireless can deliver campus connectivity, but security, inconsistent performance, and line-of-site challenges must be overcome. Patton's CopperLink long range Extended Ethernet Switch enables the use of ordinary telephony grade cables, often already in place. They can be put back to work to implement high bandwidth network connectivity covering a radius in excess of 27,000 feet (8.3 km).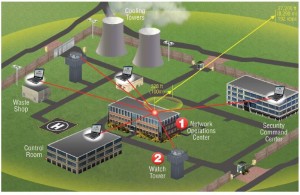 The CL4324 is simple to operate and enables a network to be up and running in minutes versus days. The CopperLink 4324 has a wide variety of end points to choose from based on the type or environment or location to which you want to deliver Ethernet connectivity.
Patton's Model CL4324 is a compact, 1U high, 24-port Extended Reach Ethernet Switch that aggregates 24 individual copper pair into 2 Gigabit Ethernet uplink copper and/or over 2 Combo Gigabit copper/fiber interfaces. The CopperLink Model 4324 supports line rates of up to 5.7 Mbps per wire and has the capability of bonding 2, 3, or 4 pair for maintaining high network performance at longer reaches. Bonding up to 4 twisted pair allows for a maximum symmetrical data rate up to a 22.8 Mbps.
The CopperLink 4324 is designed to connect with the growing Ethernet infrastructure, it provides flexibility for network administrators to customize various network parameters while maintaining reliable and secure network access at low cost.
The CL4324 has user-friendly management interfaces giving network administrators a simple way to monitor and control their network in a highly secure and efficient way.
The CopperLink Model 4324 features support for ort-based/Protocol-based VLAN, Q-in-Q, VLAN Mapping, VLAN translation, L2/L3 frame filtering and secured forwarding. Furthermore, the CL4324 supports traffic classification including CoS (802.1), VLAN ID, ToS and DSCP.
With all these powerful and advanced features, the CopperLink 4324 Extended Reach Ethernet Switch is the perfect solution for network administrators, integrators and ISPs to deploy campus broadband access, connecting network enabled security or traffic control devices (IP cameras, sensors, etc.).
Bandwidth Rich
Realize bandwidth of 22.8 Mbps Symmetrical.
Operates Over Twisted Pair or Cat5+
Near fiber speeds without the cost of new cable or fiber installations or the hassles of wireless line of site.
Secure
Supports port security and MAC address filtering.
Layer 2 Ethernet Switch
Configurable for port-based or protocol-based VLAN and VLAN mapping. Traffic classification features include QoS, ToS, and DSCP.
Flexible Ethernet Uplink Options
Dual auto-sensing 10/100/1000 full or half duplex Ethernet Uplinks; Dual 10/100/1000 copper or fiber selectable Ethernet uplinks.
Easy to Monitor and Control
In-band (RS-232 console port) and out-of-band management capabilities (TELNET and HTTP), SNMPv1/v2.
Compatible with existing Patton CopperLink Ethernet Extenders
Patton 2160, 2161, 2162, CL2302, CL2304, CL1314, CL1300R, and CL1314MDE mulit-drop Ethernet Extenders. Click on the image below to enlarge.