The Patton CL1314MDE multi-drop Ethernet Extender combines two Ethernet Extenders and a 4 port switch, for daisy chaining Ethernet Extenders.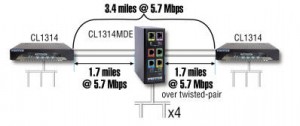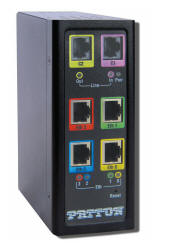 This drop-and-insert capability enables users to run a string of Ethernet Extenders across a length of twisted pair.
Now drop and add ETHERNET links are a piece of cake. Now you don't need to run back-to-back Ethernet Extenders at each site, with a small switch to cross-connect them and the local equipment together. Everything you need is combined in a single, affordable unit, off the shelf. The CL1314MDE is industrial grade. They work with any Patton CL1314 device.
CL1314MDE/EUI Ruggedized 5.7 Mbps CopperLink Multi-Drop Ethernet Extender; 2 x CopperLink; 4 x10/100; -40 to 85C; 100-240VAC
CL1314/EUI-2PK 5.7 Mbps CopperLink Ethernet Extender Kit (Local and Remote); 4 x10/100; 100-240VAC
CL1314/L/EUI 5.7 Mbps CopperLink Ethernet Extender (Local); 4 x10/100; 100-240VAC
CL1314/R/EUI 5.7 Mbps CopperLink Ethernet Extender (Remote); 4 x10/100; 100-240VAC
CL1314R/L/E Ruggedized 5.7 Mbps CopperLink Ethernet Extender (Local); 2 x10/100; -40 to 85C; No Power Supply
CL1314R/L/EUI Ruggedized 5.7 Mbps CopperLink Ethernet Extender (Local); 2 x10/100; -40 to 85C; 100-240VAC
CL1314R/R/E Ruggedized 5.7 Mbps CopperLink Ethernet Extender (Remote); 2 x10/100; -40 to 85C; No Power Supply
CL1314R/R/EUI Ruggedized 5.7 Mbps CopperLink Ethernet Extender (Remote); 2 x10/100; -40 to 85C; 100-240VAC