Patton 2173R
Ruggedized Ethernet Extender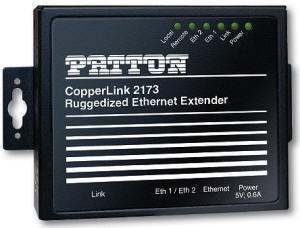 2173R/E RJ45 Connectors
2173R/EUI RJ45 Connectors; 100-240VAC
2173R/EUI-2PK Kit (1 Local Unit x 1 Remote Unit);RJ45 Connectors; 100-240VAC
The Patton 2173R ruggedized Ethernet Extender will operate where temperatures range from -40 to 85°C. The 2173Rs aluminum case is wall or DIN rail mountable (with optional DIN rail kit).
Current generation products:
Patton CL1212E Hardened Industrial Extended Temp Ethernet Extender
Patton CL1214E Extended Temp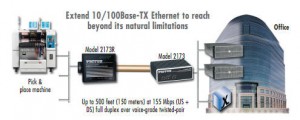 The Patton 2173R uses twisted pair infrastructure to provide Ethernet connectivity at bandwidths up to 155 Mbps full-duplex (upstream plus downstream). These save you the hassle and expense of fiber or Cat5e cabling. The work Plug and Play so there are not configuration issues during installation. The Patton 2173 units feature auto-sensing 10/100, full or half duplex, and auto MDI-X Ethernet ports.