Patton CopperLink 2162
Patton 2162/EUI-2PK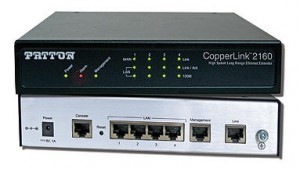 8-Wire Ethernet Extender Kit
Phenomenal Distance and Great Bandwidth
OVER COPPER!
With these units you can use 1, 2, or 4 pair twisted pair to achieve maximum transmission speeds of 22.8 Mbps at a distance of 1.6 miles (2.6km). And they will work to distances around 5 miles. These units come in a 2-Pack Kit with everything you need to extend your network the distance. The manufacturer part number is 2162/EUI-2PK
Call us with technical questions, or for discount pricing!
301-924-7400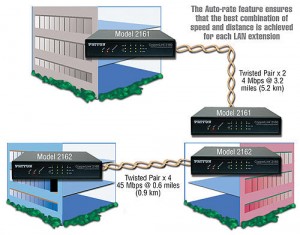 The Patton CopperLink Model 2160 Series simplifies and provides cost-effective network extension by utilizing pre-existing twisted pair infrastructure. LAN extension doesn't have to be expensive or difficult. Patton's Model 2160 series of auto-rate Ethernet Extenders open the door to low-cost and easy set-up LAN extension. The LAN Extenders are easy to use and take advantage of existing copper twisted-pair infrastructure to connect LANs at high speed and over long distances.