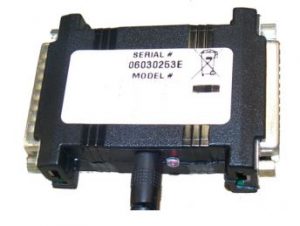 By actively receiving and re-transmitting the most common signal lines of the RS-232C interface, the RelCom Serial Cable Booster can double the maximum length of an RS-232C cable.
When placed in the middle of the cable,the Serial Cable Booster can effectively more than double the maximum 50-foot cable allowed by RS-232C applications.
This criterion also relates to the signal to noise ratio in that it is halved as compared to a long cable without a Serial Cable Booster. The unit is data rate and data format transparent.
Specifications: Power: Detachable AC Adapter, 120 VAC, 18 Watts; 240 VAC, 50 – 60 Hz, 0.2 Amp Size: 0.75″ x 2.25″ x 3.25″ (2.2 x 5.5 x 7.8 cm) Weight: 0.1 lb. (0.05 kg) Enclosure: Plastic Interface: RS-232C/CCITT V.24 Protocol: Asynchronous/Synchronous Connectors: (1) DB25M to DCE; (1) DB25F to DTE