Patton 3224 G.SHDSL Router DSLAM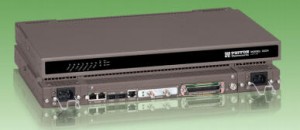 See the Patton FF3310P Next Generation EFM DSLAM
The Patton 3224 DSLAM multiplexes 24 G.SHDSL ports and presents them on a 50 pin cable. It eliminates the need to have individual "Local" units piled on top of each other in a tangle of wires, at the central location. The Patton 3224 gives you a single 1U Rack-Mounted box which handles the IP Routing and the extention of Ethernet to the remote sites.
The Patton 3224 is a G.SHDSL Multiplexer — DSLAM for short. The units is normally teamed with the Patton 3201 2.3 MBPS, G.SHDSL ROUTER or the Patton 3241 4.6 MBPS, G.SHDSL ROUTER at the remote end. The 3224 can also be used with the Patton 3231 Managed Ethernet Extenders
3224/B24/R115 IPDSLAM; G.SHDSL; 24 PORTS; Black; REDUNDANT 115VAC
3224/B24/R230 IPDSLAM; G.SHDSL; 24 PORTS; Black; REDUNDANT 230VAC
The Model 3224 is an expandable 1U system that seemlessly connects 24 subscribers to IP network access. Using ANSI/ETSI G.SHDSL, the Model 3224 enables providers to extend their reach-and-range by delivering rate-adaptive nx64 symmetrical speeds from 192 kbps to 4.6 Mbps-all over a single pair of wires. With its dual auto-sensing 10/100 Ethernet ports the Model 3224 can connect to your existing network or use an optional high-speed uplink for a complete point-of-presence. With its dual-redundant hot-swap power supplies the Model 3224 is perfect for high-demand and high-availability applications.