Patton 3201 2.3 MBPS G.SHDSL ROUTER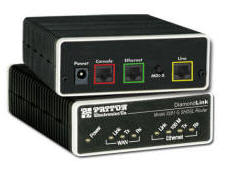 3201/R/48 DIAMONDLINK 2.3 MBPS, G.SHDSL ROUTER
3201/R/UI DIAMONDLINK 2.3 MBPS, G.SHDSL ROUTER
See next generation Patton OS3300
Combining standards-based ITU/ETSI G.SHDSL transmission with high speed IP routing, the Patton 3201 DiamondLink is perfect for bandwidth intensive applications such as LAN-to-LAN networking, multimedia services, and e-commerce transactions.
Based on the G.SHDSL G.991.2 standard, the Patton 3201 DiamondLink router enables providers to extend their reach-and-range by delivering rate-adaptive nx64 symmetrical speeds from 192 kbps to 4.6 Mbps-all over a single pair of wires.
The Patton 3201 offers easy installation and turn-up. With G.sh support for auto-line configuration and ATM, PPP, or Frame Relay, the Patton 3201 offers simple interfacing to any network. Its standard IP feature set provides bridging and routing functionality along with advanced IP features like NAT and Firewall, and optional IPSec-based VPN. Get point-and-click control with the Patton 3201's built in HTTP/SNMP management interfaces.
The Patton 3201 offers a complete, managed, end-to-end system when used with Patton's central site ipDSLAM equipment. With these features the Patton 3201 or Patton 3241 offer the clear and easy choice for mission-critical networking.
The Patton 3201 and Patton 3241 G.SHDSL routers offer a standards based DSL that supports the fundamental and advanced access requirements needed in the market today. These needs are:
Provide a routed packet-based CPE with IP centric services and functionality.
Support compatibility with the ability to connect to standard DSLAMs using G.SHDSL.
Utilize the preferred management method for ISP/CLEC/Carrier environments with the ability to manage devices from any workstation or PC across the Internet.
Specifications
DSL: G.991.2 ITU G.SHDSL Annex A and Annex B, G.994.1 G.hs. nx64 data rates over 2-wire full-duplex to 2.3 (3201)/4.6 (3241) Mbps, symmetrical, TC-PAM encoding. Distance of 32,800 ft (9.9 km) at 192 kbps to 18,000 ft (5.6 km) at 2.304 Mbps.
DSL Connection: Shielded RJ-11F isolation per IEC 950; RJ-45 available
Ethernet Connection: 10/100Base-T, Auto-Sensing, Full/Half-Duplex operation; built-in MDI-X
Management: EIA-561 RJ-45 RS-232, VT-100 CLI, TELNET, Embedded WEB/HTTP, SNMP, Logging or SMTP on events: POST, POST errors, line/DSL, PPP/DHCP, IP MPOA AAL5 and Bridged encapsulation RFC 2684 and RFC 1577 IPoATM. LLC/VC Mux support.
ATM Support: UNI 3.0, 3.1, and 4.0 ATM QoS with UBR/CBR/nrt-VBR/rt-VBR and per-VC queuing and shaping.
Peak cell rate shaping on a per-VCC basis up to 32 active VCCs
I.610 OAM network management including AIS/RDI, loop-back and performance monitoring.
Protocol: Enhanced ILMI 4.0 for auto-configuration of ATM PVCs, IP (RFC 741), TCP (RFC 793), UDP (RFC 768), ICMP (RFC 950), ARP (RFC 826). IP Router with RIP (RFC 1058), RIPv2 (RFC 2453), Integrated DHCP Server (RFC 2131). Selectable IP leases and MAC/IP pairings. DHCP relay agent (RFC 2132/RFC 1542) with 8 address pools. DNS Relay. IGMP v1 and v2. IP-in-IP (RFC-2003) encapsulation, Ethernet Bridging.
NAT/NAPT with integrated application support, MultiNat with 1:1 mapping, Many:1, Many:Many mapping, NAT Port/IP redirection and mapping.
Security: DoS Detection/protection. Intrusion detection, Logging of session, blocking and intrusion events and Real-Time alerts, Password protected system management with a username/password for console and virtual terminal, Packet filtering firewall for controlled access to and from LAN/WAN. Support for 255 rules in 32 filter sets. 16 individual connection profiles. Access list determining up to 5 hosts/networks which are allowed to access management system SNMP/HTTP/TELNET
Indicators: 8 LEDs Power, DSL: Link, TX, RX, ENET: Link, 100M, TX RX
Power Supply: External universal 90-260 VAC input or -48 VDC
Compliance: FCC Part 15A, CE Mark, EMC Directive 89/336/EEC, Low-Voltage Directive 73/23/EEC
Environment: Temperature: 32-122°F (0-50°C); Humidity: 5-90%, non-condensing
G.SHDSL speeds to 2.3 Mbps Patton 3201 and 4.6 Mbps Patton 3241–Get broadband single-pair connectivity with TC-PAM full-duplex symmetric rates and distances exceeding 32,800 feet (9,754 meters)
ATM, PPP, and Frame Relay–Versatile interface options enable simple deployment into any network
NAT/NAPT, Firewall, DHCP–Powerful routing features make shared Internet connectivity simple and secure
Interoperable with DSLAMs–Take advantage of Patton reliability whether you connect back-to-back or to a third-party DSLAM.

10/100 Ethernet with MDI-X–Easily connect to any computer or LAN-the built-in crossover switch eliminates messy configuration cables
WWW/SNMP Manageable–Built-in VT-100 console port makes setup a snap, and you can use the embedded HTTP/SNMP agent to manage the Patton 3201 from anywhere in the world.
Transparently pass VLAN tagged Ethernet frames over the DSL link