Patton 3231 Managed LAN to LAN Extender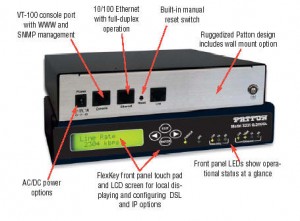 For newer generation products see Patton 3202 EFM G.SHDSL Modem and 3088A/I EFM CPE.
3231/I/E Managed SHDSL Modem, 10/100 Ethernet, LCD Management; 192kbps-4.6Mbps; No Power Supply
3231/I/EUI Managed SHDSL Modem, 10/100 Ethernet, LCD Management; 192kbps-4.6Mbps; Univseral Power Supply
The Patton Model 3231 managed NTUs are perfect for bandwidth intensive applications such as LAN-to-LAN extension, multimedia services, and connectivity for remote network enabled devices.

Based on the International Telecommunications Union (ITU) and European Telecommunications Standardization Institute (ETSI) G.SHDSL G.991.2 standard, the Patton 3231 G.SHDSL NTU enables providers to extend their reach-and-range by delivering rate-adaptive nx64 symmetrical speeds from 192 kbps to 4.6 Mbps over a single existing telephone grade twisted pair.
The Model 3231 offers on the fly installation and turn-up. With support for auto-line configuration, PPP or ATM, the Model 3231 offers simple interfacing to any network.
Management and monitoring has never been so simple. The Patton Model 3231 gives remote point-and-click control with the built in HTTP/SNMP management interface. A convenient touch pad front panel with a backlit LCD screen and console port can be used for the local management.
The Model 3231 is compatible with Patton's full line of G.SHDSL products, including the Model 3224 24-port G.SHSDL IP DSLAM and Patton's ForeFront models.