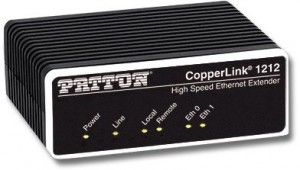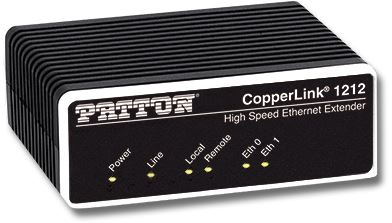 The Patton CL1211 and CL1212 are Ethernet Extenders which use Patton's classic form factor and run on their legacy 5VDC input.
The Patton CL1214, has a larger form factor, run on 12VDC and feature a built in 4 port switch.
The Patton CopperLink Model CL1211 can deliver IP traffic up to 1.8 miles (3 km) away—well beyond the standard 328-foot (100-meter) Ethernet distance limitation.
This is Patton's single-port Ethernet Extender, ideal for applications requiring the enhanced security of a single Ethernet port. With achievable line rates up to 168 Mbps, at shorter distances, the CL1211 eliminates the bandwidth constraints commonly experienced with other copper-based transmission technologies.
The Model 1211 is engineered to re-use existing infrastructure previously employed in such legacy applications as alarm circuits, E1/T1 circuits, RS-232, RS-422, RS-485, CCTV and CATV. Many newer cabling standards are also supported, including Cat 5e, Cat 6 and Cat 7.
CL1211/EUI High Speed CopperLink Ethernet Extender; 1 x 10/100BaseTX; RJ45 Line, 100-240VAC
CL1211/EUI-2PK High Speed CopperLink Ethernet Extender Kit (Local and Remote); 1 x 10/100BaseTX; RJ45 Line, 100-240VAC
CL1211/TB/EUI High Speed CopperLink Ethernet Extender; 1 x 10/100BaseTX; Terminal Block Line, 100-240VAC
CL1211E/EUI-2PK Extended Temperature CopperLink High Speed Auto Rate Extender Kit (Local and Remote); 1 x 10/100BaseTX; RJ45 Line Connector; 100-240VAC
CL1211E/TB/EUI-2PK Extended Temperature CopperLink High Speed Auto Rate Extender Kit (Local and Remote); 1 x 10/100BaseTX; Terminal Block Line Connector; 100-240VAC
CL1211E/TB-SKD Ethernet Extender, PCB Sub Assembly, Terminal Block Line; 1 x 10/100; No Power Supply
CL1211E-SKD Ethernet Extender, PCB Sub Assembly, RJ45 Line; 1 x 10/100; No Power Supply
CopperLink Line Interface

RJ-45 (pin 4 = ring; pin 5 = tip)
Terminal block, 2 position

CopperLink Line Modulation
DMT (Discrete Multi-Tone)
Ethernet Interface
8-position, shielded RJ-45. Auto-sensing 10/100Base-TX with half or full duplex operation. Model 1211 has one 10/100Base-TX port.
Protocol
Transparent to high layer protocols: supports 802.1Q VLAN tagged or untagged frames.
Transparent to IP Video schemes: fully transparent to such compression schemes as MPEG-4, H.264, and MJPEG.
Target SNR Modes
6 dB and 9 dB
Management
8-position DIP switch
Monitoring
8 LEDs display Power, Link, Ethernet 1–4, Remote, and Local status.
Power Supply
External AC: 100–240 VAC
Compliance
FCC Part 15A, CE Mark, EMC Directive 89/336/EEC, Low-Voltage Directive 73/23/EEC
Environment

Temperature: 0 to 50°C
Humidity: 5 to 95%, non-condensing
Extended Temperature: -40 to 85°C ( CL1212E or CL1211E)
Extended Humidity: 5 to 85%, condensing (CL1212E/CC or CL1211E/CC)

Dimensions
4.13 W x 1.5 H x 3.15 D in. (105 W x 38.1 H x 95.3 D mm)
Weight
0.4 lbs (181 g)
MTBF
77,000 hours