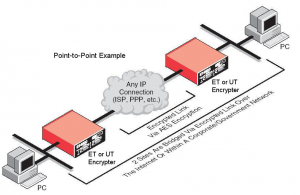 The DCB UT 6602 and UT3302 encrypted Ethernet Tunnels, often used in RoIP applications can be used between Telex consoles and Motorola or Kenwood radios.  The units transport multicast.
The secure Ethernet tunnel supports a remote console operator receiving audio from and transmitting audio to radio channels and other MIP 5000 consoles using AES encryption.
Since these units pass all traffic, including multicast through a single port, there is minimal configuration on the corporate network.  In this way, the corporate network is invisible to the voice dispatch network and the voice dispatch network is invisible to the corporate network.
Call for more information.