Encrypted Ethernet Tunnel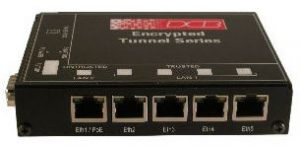 UT-3302 Encrypted UDP Tunnel with 1 untrusted, 4 trusted Ports, 10 Mbps, 8 remote Clients.  The UT-3302 encrypts data between private networks using the public Internet or any other network as the transport. This creates a flat, bridged network, a private network within public or private networks.
Here is a sample application;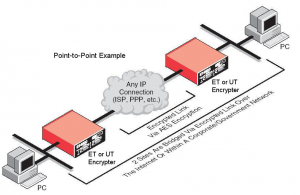 Ideal for LAN, voice, and video tunneling applications
UT Client software is available for PCs
Tunnels multicast + all other Ethernet protocols
UT-3302 temperature range of -20 to +70 C
Input voltage 10-18 VDC (12 Volt nominal), external 48 and 125 VDC power options
UT-3302 is a small, five ethernet port version with VLAN port functionality
Integral 4 port switch on the trusted interface
AC and DC power supply options
Multicast Unicast conversion/tunneling
Much simpler multicast tunnel than multicast GRE tunnel
Ethernet ports: 10/100BaseT, MDI/MDIX
One asynchronous serial port for setup, UDP or TCP Server functionality
Extensive security features for CIPS compliance
Can be set to either client mode or server mode
Server unit supports up to 8 remote client UTs
Extensive statistics logging and diagnostic tools
AES 128, 192 or 256 bit encryption
Can be used with or without encryption
Uses UDP as the transport protocol
Remote PC appears to be on the local network
Stand alone, rack mount, DIN clip mount
Bridges 802.1Q tagged V-LAN trunks or use VLAN tagging at the port level
Extensive filtering on MAC, IP, and Protocols
NAT friendly
The DCB UT-3302 is used in the following applications:
VOIP dispatch terminals and consoles
Encrypted VOIP and encrypted ROIP
VOIP multicast VOIP applications
Encrypting video connections applications
Gas and oil production, pipelines
Alternative to GRE tunnel installations
Retail – Stores, credit card readers
Law Enforcement– Remote offices and multicast ROIP
Medical: Meets HIPAA encryption requirements for securely sending medical data
Secure remote sales and maintenance staff connections
NERC and CIPS compliant WAN connections
Support a remote office with one UT device
More security to sensitive locations within a corporate network
Securely bridge networks over the Internet for lower line costs
Remote network monitoring using the Internet for data transport
The UT-3302 is a compact, industrial temperature rated device (Internet Appliance) that tunnels all ethernet protocols (layer2 Ethernet) through any UDP/IP connection. The tunnel can be encrypted with AES or non-encrypted. The UT-3302 features five Ethernet LAN ports, a 4 port switch on trusted interface and a serial setup port.
Each UT-3302 can be a client or server. All UT series products operate in server-client combinations (or using multiple clients and servers in a system). The UT-3302 can be a server unit for other UT-3302s, or PCs running UT-SOFT client software. The UT-3302 can also be a client device bridging it's local LAN to another UT-3302 or UT-6602 configured as a server. The UT-3302 supports up to 8 client UT locations, the UT-6602 supports 50 client UT units. Other models support 100 or more remote UT client locations.
The UT series uses AES 128, 192 or 256 bit encryption. AES is the US Government standard required for Critical Infrastructure Protection (CIPS) networks used in electrical power and utility communications. Additional features support the CIPS requirements such as password criteria, login banners, individual port enable/disable, and others.
Each of the four ethernet ports on the trusted side of the UT may be VLAN tagged (802.1q tagging) and interoperate with other VLAN equipment. Or, the UT connection can be configured as a VLAN trunk.
The UT-3302 network interfaces are Ethernet only. The UT-3302 has external 12, 24 and 48 volt options.
The UT series operates through firewalls with only one port of your choice opened. It bridges all Ethernet protocols including IPX, IP, NetBEUI, SIP, streaming, and other proprietary protocols. The UT series is straight-forward, easy to configure and maintain. The UT series has state-of-the-art AES encryption security without the configuration complexity of VPN.
The serial port of the UT-3302 functions as a TCP/IP or UDP/IP serial port "serial-server" or may be used for initial setup of IP address. The serial port may be used for initial IP address configuration. It interoperates with other DCB EtherPath or EtherPoll serial servers, and may be used to provide an AES encrypted serial link through any UDP/IP network.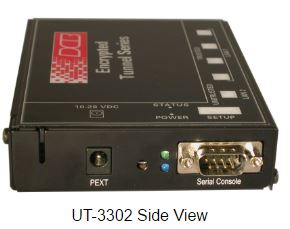 For encryption of serial RS-232 links not involving ethernet or IP, see our SE-6600 product line.