Patton Analog SmartNode VoIP Gateways
with up to 8 FXS/FXO ports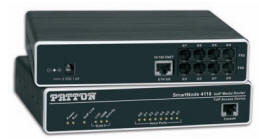 This legacy product is not recommended for new installations. For next-generation alternatives, please see Patton's SmartNode Models SN4141 and SN200.
SN4112/JO/EUI Dual Port FXO
SN4112/JS/EUI Dual Port FXS
SN4114/2JS2JO/EUI Dual FXS, Dual FXO
SN4114/JO/EUI Quad Port FXO
SN4114/JS/EUI Quad Port FXS
SN4116/4JS2JO/EUI Quad FXS, Dual FXO
SN4116/JS/EUI 6 Port FXS
SN4118/4JS4JO/EUI Quad FXS, Quad FXO
SN4118/JS/EUI 8 Port FXS
Patton's SN4110 units are simple VoIP gateways. They don't do any routing nor do they prioritize voice with QOS. But if you are already behind a unit that handles routing and prioritizing QoS functions, these units will interface your analog phones to the digital IP network very effectively.
If you need routing and QoS, please look at the VoIP Gateway-Routers we recommend.
The SN4112 SN4114 SN4116 and SN4118 units handle phone-to-IP connections supporting up to 8 FXS ports or a combination of 4 FXS and 2 or 4 FXO ports. With its FXS analog ports they connect to any legacy telephone or PBX and provide dial-tone, ringing, and caller-ID.
With FXO ports, the local PSTN can be accessed with per-port telephone numbers, programmable call progress tones, and distinctive ringing. With Telephony-over-IP (ToIP) call switching, calls can automatically select the least-cost-route while providing flexible numbering plans and end-to-end feature transparency. PPPoE, DHCP, and VLAN offers universal IP connectivity and optional IPSEC VPN with AES/3DES guarantees secure voice over the public network.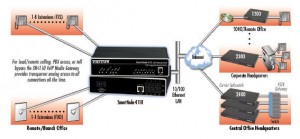 Application: Remote Office/Branch Office Voice Extension and Access
In enterprise networks, transparent access to PBX features while using existing equipment is key to low-cost operations. Now, instead of installing a separate PBX at the remote office, the SmartNode SN4112 SN4114 SN4116 and SN4118 are able to provide transparent extension while simultaneously connecting multiple locations.
The extensions can be managed centrally and benefit from PBX services such as calling groups, least cost routing, and call forwarding. PSTN access allows local calls to be processed without using corporate remote PBX resources. Additionally, the corporate PBX can break-out and bypass any long distance charges by using the remote office for the local gateway.
You can always call for a quick quote.
If you like the price, you can order right over the phone.