Patton SmartNode Analog FXS/FXO VoIP Routers include:
(1) The SmartNode 4400 IpChannelBank Analog VoIP Routers, which is a Low-Cost IpChannel Bank device with 12 to 32 FXS or FXO ports and
(2) the SmartNode 4520 Analog VoIP Routers with 2 to 8 FXS/FXO ports & 2 Ethernet ports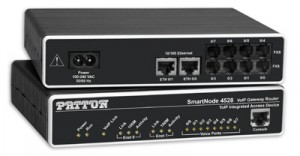 A VoIP analog telephone adapter (ATA) is a networking device that converts a traditional (legacy) phone signal (analog or digital) into a (digitized) packet-based, Internet Protocol (IP) communication stream.
The gateway serves as the conversion point between Time Division Multiplexed (TDM) telephone network and an IP-based network such as the Internet or private corporate LAN or WAN.
VoIP Gateways can support numerous use cases (application scenarios) to enable IP telephony implementations. A media gateway may provide several types of bi-directional conversion, including SIP-to-TDM and TDM-to-SIP. Some high-end Voip Gateways may even provide such session border controller (SBC) functions as transcoding, security firewall, failover, and others.
Typical VoIP Gateway Applications
VoIP media gateways can be used to address many different challenges when implementing an IP-based voice system. Three of the most common use cases are summarized below.
Patton SmartNode Analog FXS/FXO VoIP Gateway Routers include:
(1) The SmartNode 4400 IpChannelBank Analog VoIP Routers, which is a Low-Cost IpChannel Bank device with 12 to 32 FXS or FXO ports and
(2) the SmartNode 4520 Analog VoIP Routers with 2 to 8 FXS/FXO ports & 2 Ethernet ports