Patton VoIP Analog Gateways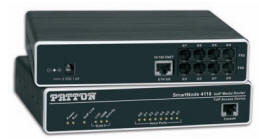 Patton Smartnode Analog VoIP Gateways support up to eight FXS or FXO telephone connections enabling the user to connect PSTN Lines, PBXs, and standard phones for voice and fax over any IP network.
Now the corporate, small, or remote office can access Internet telephony services, eliminate toll charges and route calls to and from the PSTN, Internet, or LAN.
M-ATA
Patton SN4110
Patton SN4300
You can always call for a quick quote.
If you like the price, you can order right over the phone.