Patton SmartNode 4520 VoIP
Analog VoIP Router with up to 8 FXS/FXO ports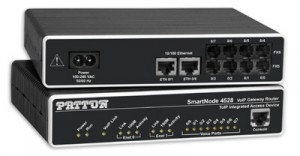 Patton's SN4520 gateway routers interface analog phone equipment to the IP network and as routers, they prioritize voice over data with the excellent Patton QoS system.
SN4522/JO/EUI Dual Port FXO
SN4522/JS/EUI Dual Port FXS
SN4524/2JS2JO/EUI Dual FXS, Dual FXO
SN4524/JO/EUI Quad Port FXO
SN4524/JS/EUI Quad Port FXS
SN4526/4JS2JO/EUI Quad FXS, Dual FXO
SN4526/JS/EUI 6 Port FXS VoIP/ToIP
SN4528/4JS4JO/EUI Quad FXS, Quad FXO
SN4528/JS/EUI 8 Port FXS
The SmartNode 4520 units also features two Ethernet ports.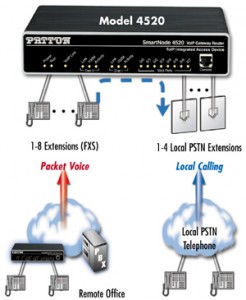 LAN/WAN QoS & Router
As an Enterprise router the SmartNode offers QoS voice, wire-speed traffic shaping, and complete network access. With dual 10/100 Eternet ports, the SmartNode connects your hosts to your LAN with VLAN tagging, DHCP server/client, and Firewall/ACL services. Use PPPoE and IPSEC VPN with DES, 3DES, and AES encryption and bring your Voice and Data to the WAN through a single and secure network connection.
Dual 10/100 Full-Duplex Auto-Sensing Auto-MDX Ethernet
14 LEDs for System, Ethernet, and Call status
Universal 100-240VAC (contact us for 48VDC Power)
Configuration and Management through Webinterface, CLI, Telnet, Console and SNMP
IP routing and Services, NAT/PAT, DHCP Server, PPPoE, IP Filter Lists provide full Internet access capabilities and security
Advanced QoS and traffic management. Voice-priority, traffic shaping to ensure optimal up and downstream voice quality
Up to 8 Voice and FAX Calls over IP Support-Use any CODEC or T.38 FAX on any port, any time
2,4,6 or 8 FXS and 2,4 FXO Ports-Up to 8 FXS ports connect to your standard telephone with programmable tones, ringing, CLIP etc. 2 or 4 FXO ports for PSTN connections. Programmable call routing switches between any FXS, FXO and IP connection.
Toll Quality CODECs & T.38 FAX-Use standard G.711 or G.726 Codecs for toll-quality or G.723.1 or G.728ab for low-bandwidth applications. T.38 FAX and FAX Bypass features allow high-quality FoIP.
H.323v4, SIP Signaling-Deploy into any enterprise or carrier softswitch network with the leading call and session signalling protocols. Maximize Interoperability to create advanced multimedia and messaging services.
IPSEC VPN, Encryption, & VLAN-Connect your telephone to IP and secure your calls with optional IPSEC. Choose DES/3DES or AES for encryption. VLAN tagging/stripping allows interfacing into your 802.1pQ network.
Full ToIP Call Switching-Enhanced circuit-switched call routing allows user programmable and adaptive call handling based on hunt groups, caller/called ID, and time of day.
Connect with confidence using the SmartNode 4520 VoIP Gateway Router. Integrating a complete enterprise router with a full-featured Voice-over-IP Media Gateway offers the new standard in toll-bypass, remote/branch office connectivity, and enhanced carrier services. Perfect for the Remote office, Branch office, or PBX/Switch extension, the SmartNode 4520 integrates all your voice, FAX, and LAN traffic for seamless and secure networking.
With its FXS analog ports the SN4520 Series supports up to eight simultaneous calls, connects to any legacy telephone or PBX, and provides dial-tone, ringing, and caller-ID. When equipped with FXO ports, the local PSTN can be accessed enabling local calling, enhanced toll-bypass services, and fallback configurations. ClearConnect adaptive network monitoring ensures your call always gets connected even if the VoIP link goes down or becomes congested.
With dual 10/100 Ethernet ports, the SN4520 Series provides IP routing with guaranteed Quality of Service. Voice traffic is prioritized while LAN/IP traffic shaping permits efficient access to the Internet and corporate networks. As a complete enterprise router, the SN4520 supports DHCP, NAT, Firewall/ACL, and PPPoE clients. While IPSEC VPN and VLAN tunnel data while DES, 3DES or AES enables secure voice and data over the public network.