Patton ForeFront 3210 FF3210P
24 port VDSL2 Concentrator

Patton's Model FF3210P is a 1.5U 24-port VDSL2 DSLAM with 2 Gigabit Ethernet combo interfaces and a POTS/ISDN splitter. It supports a VDSL2 30a profile that features 100 Mbps of symmetric data rate over copper wires.  These devices are frequently teamed up with Patton's 1069 VDSL2 CPE units
The FF3210P is an ideal choice for carriers, ISPs, and system integrators that are looking for a high performance broadband solution for their triple play (video, voice and data) applications. (click image to enlarge)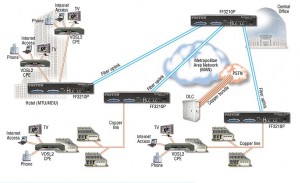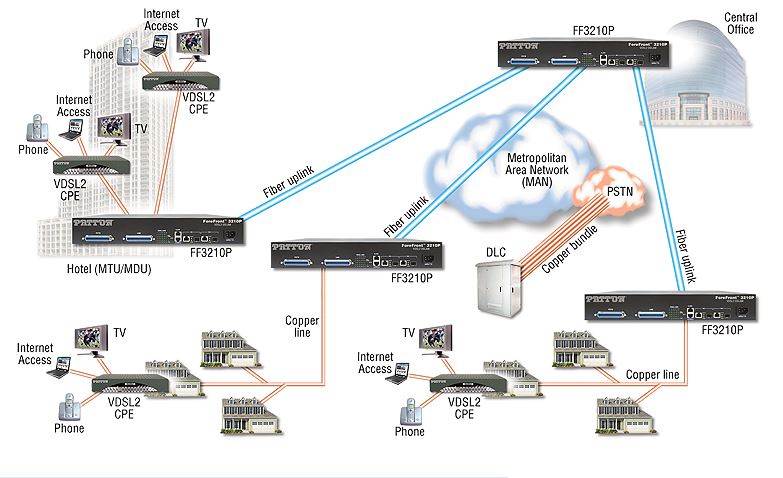 The FF3210P offers user-friendly management interfaces that enable service providers to monitor and control their services in a highly secure and efficient way. It features support for port-based/protocol-based VLAN, Q-in-Q, VLAN mapping, VLAN translation, L2/L3 frame filtering and secured forwarding.
It supports traffic classification including CoS (802.1), VLAN ID, ToS and DSCP. With all these powerful and advanced features, the ForeFront VDSL2 IP DSLAM is the perfect solution for network service providers to deploy their broadband access, IP TV, Hospitality and MDU applications.
Up to 24 full service links can be routed throughout campus and various MxU environments. The Patton FF3210P aggregates the IP services delivered from the ISP or Service Providers with the POTS delivered from the PSTN. The POTS and Ethernet signals are then aggregated and sent over an already existing 2-wire telephony grade connection. The VDSL2 standalone unit is placed in each room to split the signal back into Ethernet (data) and POTS/ISDN (voice) for delivery to the end-user. Channel selectable symmetrical data rates up to 100 Mbps allow for a differentiation of services, and increased distance capabilities.
You can always call for a quick quote.
If you like the price, you can order right over the phone.