Patton OnSite 3300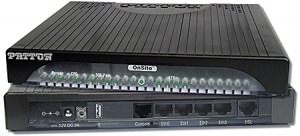 OS3304/4ETH/EUI
Patton OS3301
Patton OS3302
These EFM devices works to distances in excess of 30,000 feet either back-to-back or as CPE devices. They provide managed internet access for bandwidth hungry small to medium size offices, wireless backhaul, Metro Ethernet. and LAN to LAN extensions. Click the images to enlarge.

The OS3300 units feature pair bonding support of up to 4 twisted-pairs (8-wire), multiple bandwidth options, and strong software suite making them the ideal integrated access device (IAD) for service providers looking to replace E1/T1 service with high speed Metro Ethernet E-Line, E-LAN, or E-Tree services over copper.
Bandwidth Rich-Bond up to 4 twisted pairs to achieve the desired rate and reach:

Operates Over Twisted Pair or Cat5+–dNear fiber speeds without the cost of new cable or fiber installations or the hassles of wireless line of site.
Connects Point-to-Point or to-DSLAM–The OS3300 devices can be used either back to back or with any G.BIS compliant 3rd party or Patton DSLAM.
Auto Rate Adaptation Supported–Will automatically select the best rate vs reach combination available based on a per wire basis.
Stateful Firewall Inspection–Stateful firewall inspection is accomplished through ACLs that filter by source and destination IP address, IP port and protocol.
VLAN Tagging–VLAN tagging and processing is configurable on Ethernet port.
You can always call for a quick quote.
If you like the price, you can order right over the phone.