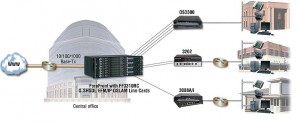 Patton's ForeFront™ 3310RC EFM DSLAM rack card provides 24 symmetric G.SHDSL.bis broadband access channels. Up to 5.7 Mbps per port. Bond multiple ports for speeds up to 22.8 Mbps.
Patton's ForeFront™ 3310RC EFM DSLAM rack card offers high-speed, reliable configurable Ethernet in the First Mile (EFM) access links with 24 copper-pair ports.
Each G.bis copper pair supports 192 kbps to 5.7 Mbps. This DSLAM creates high bandwidth access channels by EFM bonding (2BASE-TL) up to 4 ports (IEEE 802.3ah) yielding 22.8 Mbps. The 3310RC EFM DSLAM blade integrates an HTTP server for management access via any standard browser. Without a single point of failure in a chassis installation, all cards remain accessible though another card is removed. Dual GigEthernet uplink ports and the packet-switched mid-plane bus (for Ethernet traffic) ensures traffic delivery, and robust performance in various failure modes.
The FF3310RC EFM DSLAM blade can be installed in any Patton 2U, 4U, or 6U ForeFront Access System chassis, including ForeFront systems already deployed with legacy services. The ForeFront solution offers a migration path from legacy services to premium Carrier Ethernet services in the same chassis.
All ForeFront chassis support N+1 redundant power with integrated cooling and hot swappable blades for easy maintenance without disruption to actively deployed services.
Providers leverage the EFM blade's capabilities to delivery premium symmetric services for IP-based voice, video, and data services with QoS flow management. Also supported are 802.1p/Q VLAN priority classes, and VLAN-stacking ("Q-in-Q") to ensure transparent extension of VLAN multiplexed services.
Applications
Multi-Port Security Ethernet Extension Application
The Extreme FullPipe™—configured with ForeFront™ 3310RC cards— provides 312 G.SHDSL.bis links in a 6U chassis. Whether delivering LAN extension services or Internet access, the ForeFront™ 3310RC is interoperable with Patton CPE as well as with third-party solutions.
Patton CPE's:  OS3300  3202  3088A/I
Accessories
10-3096TM50/50-12 12 FT Cable (50 PIN TELCO-to-50 PIN TELCO)
10-3096TM50/50-6 6 FT Cable (50 PIN TELCO-to-50 PIN TELCO)
10-3096TM50-12 Cable, 50-pin Male, Telco-to-25 unterminated TP, 12FT
10-3096TM50-20 20 FT Cable (50-pin TELCO-to-25 unterminated)
10-50TELCO/24RJ11-6 6 FT Cable (50 PIN TELCO-to-24 RJ11)
10-50TELCO/24RJ45-6 6 FT Cable (50 PIN TELCO-to-24 RJ45)s.