Data Connect Industrial Ethernet Extender
DCE/2178EE-2PK 2 Pack Kit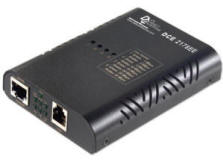 NOTE: This product is discontinued. We now recommend the much faster DCE 2178HSEE for new installations.
The 2178EE is an industrial grade Ethernet Extender that efficiently extends 10/100 Ethernet circuits up to 6,232 feet and supports speeds from 1Mbps to 50Mbps using existing straight pair copper wire.
To connect the 2178EE devices using a spare pair in a CAT 5 or CAT3 Telephone cable….your installer will simply need to connect the twisted pair to the middle two pins, (pins 2 and 3) on the RJ-11 plug. Pins 2 and 3 are the active pins.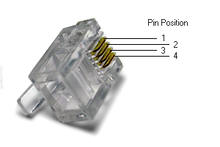 The 2178EE will allow Ethernet connectivity in existing facilities without pulling extra cable. This is the perfect solution to Ethernet on the factory floor where systems have been upgraded from slower serial communications to Ethernet networking.
Applications are endless; all that is needed is access to copper pairs. Installation is easy with a single switch setting; one end is set for local and the other remote. The 2178EE is used in pairs to extend Ethernet connectivity over existing voice grade copper wire.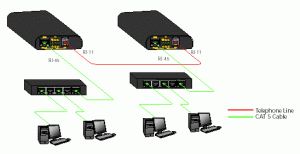 Operates transparent to higher layer protocols such as TCP/IP
Ethernet Port: 10/100Mbps-Full/Half-duplex, Auto-Negotiation, Auto-MDI/MDIX
Ethernet Extender(RJ-11) Port: Symmetrical on the VDSL
Highspeed Full-duplex 50Mbps communications link over existing copper
Support DIP switch to select Local or Remote side
Ten speeds with speed indicator LEDs on top of unit,
Up to 50Mbps @ about 300meters (984ft.),
Down to 1Mbps @ about 1,900meters (6,232ft.)
-20°C to 60°C (-4°F to 140°F) operating temperature range
Industrial Hardened aluminum case
Supports DIN-Rail, Wall Mounting installation or expansion use with our media converter chassis system
DCE_2178EE Data Sheet
You can always call for a quick quote.
If you like the price, you can order right over the phone.