RAD MIRICI-E1T1/GE
Miniature Ethernet to E1/T1 Remote Bridge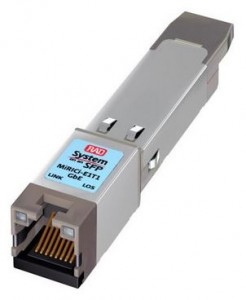 RAD MiRICi-E1/T1 and MiRICi-E3/T3 connect Fast Ethernet or Gigabit Ethernet LANs over framed or unframed E1 or T1 circuits, or over framed T3 links.
The smart small form-factor pluggable miniature remote bridges provide TDM connectivity to any Ethernet device with a SFP compatible, Fast Ethernet or GbE port. Hot-swappable and software configurable, the intelligent SFPs are fully managed devices supporting standard GFP encapsulation, as well as HDLC and cHDLC. They deliver a complete Ethernet over PDH solution in finger-sized SFP enclosures and enable a quick rollout of new Ethernet services over legacy TDM infrastructure.
The MiRICi-E1/T1 and MiRICi-E3/T3 are part of RAD œSystem on an SFP product line, providing simple and cost-effective alternatives to external, standalone bridge units or conversion cards for user devices, saving on space, cabling and power consumption, and simplifying management.
Supports framed and unframed E1/T1, E3/T3 link
Supports standard GFP, HDLClike, and cHDLC encapsulation
Hot-insertion SFP-format plug, MSA-compliant
User-configurable
Enhanced management of control, status and monitoring
Out-of-band management through I²C
Supports full duplex flow control
Fault propagation from WAN to LAN link
Software download via TFTP
Supports Ethernet OAM per 802.3-2005 (formerly 802.3ah)
MIRICI-E1T1/FE 5130030000
INTELLIGENT MINIATURE ETHERNET TO E1/T1 REMOTE BRIDGE,
FAST ETHERNET SFP PORT INTERFACE
MIRICI-E1T1/FE/H 5130540000
INTELLIGENT MINIATURE ETHERNET TO E1/T1 REMOTE BRIDGE,
FAST ETHERNET SFP PORT INTERFACE, HARDENED ENCLOSURE
MIRICI-E1T1/GE 5130040000
INTELLIGENT MINIATURE ETHERNET TO E1/T1 REMOTE BRIDGE,
10/100/1000 BASET ETHERNET USER PORT
MIRICI-E3T3/FE 5130050000
INTELLIGENT MINIATURE ETHERNET TO E3/T3 REMOTE BRIDGE,
FAST ETHERNET SFP PORT INTERFACE
MIRICI-E3T3/GE 5130010000
INTELLIGENT MINIATURE ETHERNET TO E3/T3 REMOTE BRIDGE,
10/100/1000 BASET ETHERNET USER PORT