Designed for FTTx Last Mile Applications the PLANET XDL-2420R is a telecom-level, high-performance IP-DSLAM — Digital Subscriber Line Access Multiplexer — with 24-port VDSL2 / ADSL2+ and 2-port Gigabit TP / SFP combo interfaces, with AC plus DC Redundant Power System.
The XDL-2420R is fully compliant with the ITU-T G.993.2 VDSL2 standard band plan up to profile 30a. It offers maximum download and upload line rates up to 100/100Mbps on existing twisted pair lines. For ADSL connectivity, the XDL-2420R supports high interoperability and backward compatibility with ATU-R, and ADSL2 / ADSL2+ line mode.
The XDL-2420R provides excellent bandwidth to meet the requirement of triple play devices for home entertainment and communications. With the capability of 100/100Mbps symmetric data transmission, the XDL-2420R enables many multi-media services to work on the Internet, such as VOD (Video on Demand), Voice over IP, Video phone, IPTV, Internet caching server, distance education, and so on.
ADSL2+ Fallback
For those ISPs that still provide ADSL broadband service, the XDL-2420R supports transmission rates up to 24Mbps downstream and 3.5Mbps upstream with ADSL 2+ technology. The XDL-2420R supports PPPoE relay to establish connection with ISP, and it can be switched over to VDSL2 after a network upgrade.
The XDL-2420R IP-DSLAM supports VDSL2 profiles 8a, 8b, 8c, 8d, 12a, 12b, 17a and 30a, 997/998 band plan and ADSL/ADSL2/ADSL2+ ITU-T G.993.1, ITU-T G.992.3, ITU-T G.992.5, Annex A/B/L/M transmit modes to each subscriber line. Furthermore, it can be configured on a per-link basis for transmission mode, rate limitation, INP (impulse noise protection) and SNR (signal-to-noise) margin. These advanced xDSL functionalities help service providers to adjust the line performance and build a stable and reliable IP-DSLAM solution.
The XDL-2420R supports the SELT (Single-end Loop Testing) and dual power inputs system for continuous network operation. SELT simplifies the testing of a DSL loop from one end to the line to be completed easily from the central office (CO) without having to require a technician or any equipment to be employed at the subscriber site. SELT makes line maintenance easily and reduces device shutdown time. The XDL-2420R is also equipped with one 90~240V AC unit and one DC -48V power supply unit for power redundancy. The Redundant Power System offers more reliability and reduces the possibility of device shutdown. The -48V DC power supply implemented makes the XDL-2420R IP-DSLAM as a telecom level device that can be located at the electronic room.
Nowadays, higher speed home broadband connections are in great demand, but most of the last mile solutions in the market are not easily to be deployed or simply cost too much. The XDL-2420R is the perfect solution to the last mile deployment for ISP and Telecom service providers as it applies the EoVDSL (Ethernet over VDSL) to providing up to 100Mbps speed transmission capability with the current telephone wire (RJ11), and thus it does not cost too much for re-wiring and can make many multi-media services come true. The XDL-2420R not only gives the excellent bandwidth for the triple-play home entertainment and communications, but also supports ADSL2 / ADSL2+ technology for users to conveniently utilize the current ADSL / ADSL2+ device.
VDSL2 in Hotel Deployment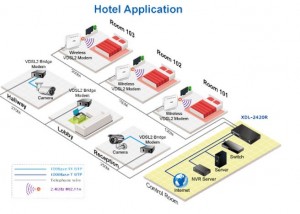 The XDL-2420R can support the ISP and Telecom service providers in long-distance network deployment. Ethernet can only reach up to 100 meters, and thus, the Ethernet network cannot meet the requirement when the deployment needs a longer cable. To solve this issue, the XDL-2420R complies with the VDSL2 / ADSL2+ standard where up to 1.4km in cable length through existing phone wires can be supported. Thus, in the Hotel network, for example, the IPTV, Internet and wireless facilities can be installed in each room even though the central office or control room is over 100 meters away.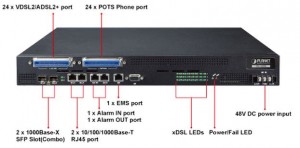 DSL INTERFACES
24 full-duplex VDSL2 / ADSL2+ links via RJ21 (Telco-50) connector
24 corresponding POTS lines via RJ21 (Telco-50) connector
Built-in POTS splitter for each VDSL / ADSL port
Compatible with PLANET's VDSL2 CPE devices: VC-231, VC-234, VDR-300NU
Compatible with PLANET's ADSL2/2+ router: ADN-4101, ADE-3400, ADE-3410, ADE-4400, VDR-300NU
Auto-speed function for DSL link (by distance and cable quality)
ETHERNET INTERFACES
2 10/100/1000Mbps TP and 2 1000Mbps SFP shared combo interfaces
1 alarm in and 1 alarm out copper ports
Auto-MDI/MDI-X detection on Gigabit RJ-45 port
VDSL2 FEATURES
Cost-effective VDSL2 link and central management solution
Compliant with ITU-T G.993.2 VDSL2 standard (8a,8b,8c,8d,12a,12b,17a and 30a Profiles)
Configurable xDSL line profile and alarm profile
DMT (discrete multi-tone) line coding VDSL
Up to profile 30a 100/100Mbps symmetric data rate for VDSL2vSelectable target data rate and target SNR margin
Built-in surge protection against surge damage from high energy spike
Voice and data communication can be shared on the existing telephone wire simultaneously
Supports downstream / upstream rate control on each port
ADSL2/2+ FEATURES
Compliant with ADSL2/2+ standard
– ITU-T G.992.1 Annex A/B- ITU-T G.992.3 Annex A/B, Annex L mode1 and mode2- ITU-T G.992.5 Annex A/B/M
Configurable xDSL line profile and alarm profile
Supports upstream 3.5Mbps and downstream 24Mbps at the maximum
Supports PPPoE relay
LAYER 2 FEATURES
Destination Lookup Fail (DLF) / Broadcast Rate Limit
Q-in-Q VLAN
Supports Redundancy / Static Link Aggregation / Daisy Chain uplink application mode
8 queues priority for SP-priority and WRR-weight QoS
ToS to VLAN priority remark mapping
QUALITY OF SERVICE
8 queues priority for all xDSL ports
SP-priority / WRR-weight QoS
ToS to VLAN priority remark mapping
MULTICAST
IGMP v2
IGMP Fast Leave
SECURITY
8 groups Layer2/3/4 Access Control List
DHCP Option82
MANAGEMENT
System date and time control
Single-end loop testing
Lamp test
User management account
Out-band management
Remote management control
SNMP trap
POWER SYSTEM
90~240V AC and -48V DC dual power input interfaces
Supports power redundancy