Patton's Model OS2300 G.SHDSL.bis OnSite EFM CPE is the perfect choice for users or service providers who need high-speed dedicated network connections. Based on the ITU and ETSI G.SHDSL G.991.2 standard, the OS2300 enables providers to extend their reach-and-range by delivering rate-adaptive nx64 symmetrical speeds up to 15.3 Mbps over a single pair of wires. If you need even more bandwidth, the OS2300 can bond as many as two pairs (4 wires) for up to 30 Mbps.
The OS2300 offers easy installation. For very basic configurations users can take advantage of a DIP switch located on the bottom of the unit. For more configuration options we offer CLI via Console/VT-100 or Telnet/SSH, and HTTP web based management, and SNMP.
Patton's OnSite 2300 offers the versatility and reliability demanded for business-class applications at the most affordable price.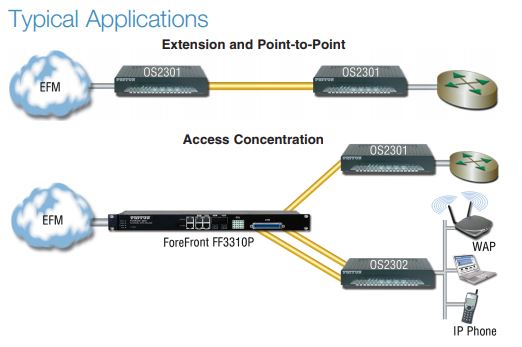 The Patton OS2300 G.SHDSL.bis CPE excels in manageability even in point-to-point configurations. Plug 'n' Play automatically configures a remote unit based on parameters stored in the local unit. The secure console lets an operator log into a unit to manage and configure it locally. Remote console makes configuration and management of a remote unit easy over an out-of-band channel.
Part Numbers:

OS2301/4ETH/EUI OnSite EFM CPE; 1 pair; 4 x10/100, external 100-240VAC; Optional License for Routing
OS2302/4ETH/EUI OnSite EFM CPE; 2 pair; 4 x10/100, external 100-240VAC; Optional License for Routing