Patton 2884 and 2888
Bridge Ethernet over Multiple T1's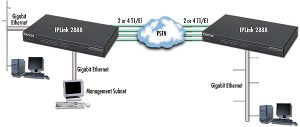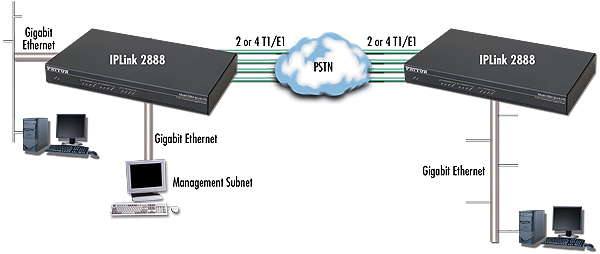 2884/2E/48 2 x T1/E1, 48VDC Power
2884/2E/UI 2 T1/E1; Universal AC Power
2884/4E/48 4 x T1/E1, 48VDC Power
2884/4E/UI 4 x T1/E1, Universal AC Power
2888/2E/48 (2 port T1/E1); 48VDC Power
2888/2E/48-2PK 2T1/E1, 2PK, 48V
2888/2E/E (2 port T1/E1); External Power Supply Ready
2888/2E/UI (2 port T1/E1); Universal AC Power
2888/4E/48 (4 port T1/E1); Internal -48VDC Power
2888/4E/48-2PK IP LINK INV MUX 4T1/E1, 2PK, 48V
2888/4E/E (4 port T1/E1); External Power Supply Ready
2888/4E/E-2PK 2-Pack – (4 port T1/E1); External Power Supply Ready
2888/4E/UI (4 port T1/E1); Universal AC Power
2888/4E/UI-2PK 2-Pack – (4 port T1/E1); Universal AC Power
The Patton 2888 enables Ethernet IP networks to be bridged over multiple T1 lines. You can now bond and aggregate up to 4 T1's in a point to point application with the Patton 2888 Inverse Multiplexer.
The Patton 2888 T1/E1 Inverse Mux provides point-to-point Ethernet connectivity over T1 circuits. Two Ethernet ports ensure easy connection to any LAN infrastructure. This product fills an important niche, and DCE Express is glad to offer it to our customers.
You can always call for a quick quote.
If you like the price, you can order right over the phone.