Patton 2603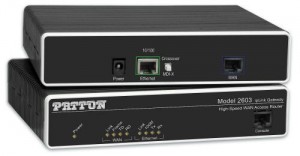 2603/UI: T1 Internal 90-260 VAC power supply
2603/EUI: T1 External 90-260 VAC power supply
2603/48: Internal -48 VDC power supply
Patton's IPLink T1/E1 Router is a complete all-in-one network access device which easily connects your LAN to any full or fractional T1/E1 over PPP or frame relay routed or bridged connections.


The Patton 2603 T1 Routers are the ideal low cost solution for point to point T1 applications.
Standard T1/E1 WAN Interface • RJ-48C and BNC connectors for T1/E1 installations
PPP and Frame Relay • Versatile WAN options enable deployment into any network
NAT/NAPT, Firewall, DHCP • Powerful routing features make shared Internet connectivity simple and secure
10/100 Ethernet with MDI-X • Easily connect to any computer or LAN • the built-in communication crossover switch eliminates messy configuration cables
WWW/SNMP Manageable • Built-in VT-100 console port makes setup a snap, and you can use the embedded HTTP/SNMP agent to manage the IPLink routers from anywhere in the world.
Combining ease-of-use with a full suite of LAN/WAN routing features, the Patton 2603 Low Cost T1 Routers provide selectable bridging or routing functionality along with advanced IP features such as NAT/NAPT, Firewall, and DHCP. A complete set of configurable ATM/FR/PPP/IP WAN protocols allow a wide range of choices when connecting branches via common WAN services. The Patton 2603 Routers boast easy installation offering Console/VT-100, Telnet, and HTTP/SNMP management options.
All Patton 2603 T1 routers come with an auto-sensing full-duplex 10/100Base-T Ethernet port, cross-over switch, and internal power supply. The Model 2603 is equipped with an integrated T1/E1 CSU/DSU for connection to full and fractional T1/E1 services. The Model 2621 is equipped with an X.21 interface, and the Model 2635 comes with a V.35 interface.
Patton's new series of high-speed routers offer the versatility and reliability demanded for business-class applications at the most affordable price.
Patton's 2603 T1 routers deliver all the advanced features for secure, reliable, and high speed Internet data connections. They combine ease-of-use with powerful data routing to make shared Internet connectivity simple and easy.
With NAT support, the Patton 2603 T1 routers offer convenient and economical operation by using a single IP address while the integrated DHCP server automates IP address assignment for connected LAN computers. Security is standard with built-in firewall and violation alerting features that protect the network from would-be intruders.
Patton stands behind their products. They offer free configuration support, free technical services, and a minimum one-year warranty on all products.
WAN Interface: T1/E1-RJ48C
Ethernet Connection: Single-port 10/100Base-T switch, auto-sensing, full/half-duplex operation, built-in MDI-X
Management: EIA-561 RJ-45 RS-232, VT-100 CLI, TELNET, Embedded WEB/HTTP, SNMP, Logging or SMTP on events: POST, POST errors, line/DSL, PPP/DHCP, IP MPOA AAL5 and Bridged encapsulation RFC 2684 and RFC 1577 IPoATM. LLC/VC Mux support.
ATM Support: UNI 3.0, 3.1, and 4.0 ATM QoS with UBR/CBR/nrt-VBR/rt-VBR and per-VC queuing and shaping.
Peak cell rate shaping on a per-VCC basis up to 32 active VCCs
I.610 OAM network management including AIS/RDI, loop-back and performance monitoring.
Protocol: Enhanced ILMI 4.0 for auto-configuration of ATM PVCs, IP (RFC 741), TCP (RFC 793), UDP (RFC 768), ICMP (RFC 950), ARP (RFC 826). IP Low Cost T1 Router with RIP (RFC 1058), RIPv2 (RFC 2453), OSPF (RFC 2328) Integrated DHCP Server (RFC 2131). Selectable IP leases and MAC/IP pairings. DHCP relay agent (RFC 2132/RFC 1542) with 8 address pools. DNS Relay. IGMP v1 and v2. IP-in-IP (RFC-2003) encapsulation, Ethernet Bridging.
NAT/NAPT with integrated application support, MultiNat with 1:1 mapping, Many:1, Many:Many mapping, NAT Port/IP redirection and mapping.
Security: DoS Detection/protection. Intrusion detection, Logging of session, blocking and intrusion events and Real-Time alerts, Password protected system management with a username/password for console and virtual terminal, Packet filtering firewall for controlled access to and from LAN/WAN. Support for 255 rules in 32 filter sets. 16 individual connection profiles. Access list determining up to 5 hosts/networks which are allowed to access management system SNMP/HTTP/TELNET
Indicators: 12 LEDs: Power, Link, Loss, Loop, Back-Up WAN signals; Link, TX, RX LAN signals
Power Supply: Internal universal 90-260 VAC input or 48 VDC input.
Compliance: FCC Part 15A, CE Mark, EMC Directive 89/336/EEC, Low-Voltage Directive 73/23/EEC, EN60950, EN55022 (CISPR 22). FCC part 68.
Environment: Temperature: 32-122°F (0-50°C); Humidity: 5-90%, non-condensing
Dimensions: 7.3″ x 6.6″ x 1.62″ (185mm x 168mm x 41mm)