Patton 2014 Passive Converter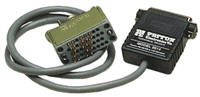 Lets a Balanced, Synchronous Device
Communicate with a V.35 Controller or CSU/DSU
Patton 2014FC-FT RS422/530(F/DCE) TO V35(F/DTE)
Patton 2014FC-MT RS422/530(F/DCE) TO V35(M/DTE)
Patton 2014FT-FC RS422/530(F/DTE) TO V35(F/DCE)
Patton 2014FT-MC RS422/530(F/DTE) TO V35(M/DCE)
Patton 2014MC-FT RS422/530(M/DCE) TO V35(F/DTE)
Patton 2014MC-MT RS422/530(M/DCE) TO V35(M/DTE)
Patton 2014MT-FC RS422/530(M/DTE) TO V35(F/DCE)
Patton 2014MT-MC RS422/530(M/DTE) TO V35(M/DCE)
Bi-Directionally Converts Synchronous RS-530 to V.35
Supports Data Rates to 2 Mbps, Full or Half Duplex
Transparent to Protocol
No AC Power or Batteries Required
Various DCE/DTE and Gender Combinations Available
DB-25 and M/34 Connectors with Integral 6 foot (1.8m) Cable
Circuitry Housed in a Miniature Case
The Patton 2014 RS-530 to V.35 converter lets a synchronous RS-530 device communicate bi-directionally with a synchronous V.35 device. The Patton 2014 requires no AC power or batteries to operate and supports data rates to 2 Mbps. Operating full or half duplex, the Patton 2014 passes all necessary clocking and control signals, and is transparent to protocol.
We supply the FAA!
Interfaces: EIA RS-530/RS-422 to CCITT V.35
Data Rates: Up to 2.048 Mbps
Transmission Mode: Full or half duplex
Protocol: Transparent to protocol
Clocking: Set by connected devices
Connectors: DB-25 male or female on RS-530 side, M/34 male or female on V.35 side
Temperature Range: 32-122°F (0-50°C)
Altitude: 0-15,000 feet
Humidity: Up to 95% non-condensing
Power Supply: None required, uses ultra low power from EIA data and control signals
Dimensions: 2.66L x 2.10H x 0.73W (6.8 x 5.3 x 1.9 cm
Weight: 14 oz. (400 grams) including cable
You can always call for a quick quote.
If you like the price, you can order right over the phone.