Patton 1080A Async Sync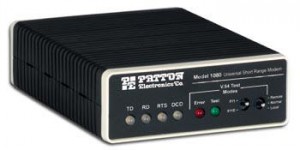 1080A/12 RS-232 LINE DRIVER; Internal 12VDC Input
1080A/24 RS-232 LINE DRIVER; Internal 24VDC Input
1080A/48 RS-232 LINE DRIVER; Internal 48VDC Input
1080A/EUI RS-232 Â LINE DRIVER; External 100-240 VAC
Async Sync Short-Haul Modem
Also sold as Black Box ME475A  ME475A-R2
The Patton 1080A AC Powered, Universal Short Range Modem is a RS-232 short haul modem. Recent improvements in the Patton 1080A include better distances (up to 17 miles [27.4Km] on one or two unconditioned twisted pair), support for higher data rates (up to 57.6 kbps), and the addition of a built-in V.52 BER test pattern generator.
Of course, the Patton 1080A retains all the features that you have already come to expect: asynchronous or synchronous RS-232 operation, half duplex communication over two wires or a choice of half or full duplex communication over four wires, support for point-to-point or multipoint applications, and fully compliant V.54 test modes (local analog loop and remote digital loop).
Automatic features include equalization, gain control and noise filtering (a separate filter for each data rate is built into a custom VLSI chip). To combat the many nemeses of clear data transmission, the Patton 1080A includes surge protection (guards against transients), transformer isolation (eliminates ground looping) and a new anti-streaming timer (stops data streaming).
The Patton 1080A packs a lot of convenience into a little box: Front panel LEDs give a clear picture of link status, V.54 tests can be activated remotely or via the front panel, and the unit can be externally configured (no need to open the case). Best of all, the Patton 1080A standalone is fully compatible with the Patton 1080A rack card and the new self-powered Patton 1040 short haul.
Range: 17.5 miles @1200 bps, 19 AWG 2-pair wire
Data Rates: Sync or Async: 1.2, 1.8, 2.4, 3.6, 4.8, 7.2, 9.6, 14.4, 19.2, 28.8, 38.4, and 57.6 kbps, externally switch selected
Operation: Point-to-point or multipoint
Transmit Mode: Synchronous or asynchronous, 2-W/half duplex, 4-W/half or full duplex
Interface: EIA RS-232, CCITT V.24
Connectors: DB-25 female (RS-232), RJ-45 jack and terminal block (RJ-11 optional)
Diagnostics: V.54 compliant local analog loopback & remote digital loopback; V.52 compliant 511 and 511E test pattern generator
LED Indicators: TD, RD, RTS, DCD, Power, Test
Carrier: Constantly ON or Controlled by RTS
RTS/CTS Delay: Strap selected: 0.0, 8.5 or 50 mS
Transmit Clock: Internal, external or receive recover
Isolation: Transformer, 1500V RMS
Surge Protection: SAD, 600W power dissipation
Power Supply: External transformer, 115V or 230V
Dimensions: 4.17W x 1.52H x 5.0L (10.6 x 3.9 x 12.7 cm)