Patton 1069 DSL2 CPE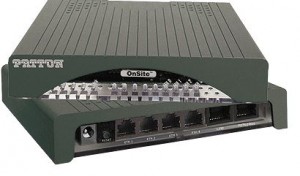 Patton's OnSite 1069 VDSL2 Bridge provides up to 100 Mbps of symmetrical data fully compliant with the VDSL2 standards ITU-T G.993.1, G.993.2, ANSI T1.424 and ETSI TS 101 270-1, 270-2.
Support for all VSDL2 profiles including 8a, 8b,8c, 8d, 12a, 12b, 17a, and 30a make the Patton 1069 the ideal VDSL2 CPE for various MxU and FTTx type installations. An on-board POTS splitter allowing users to download files from the Internet, surf the WWW, and answer e-mail messages while talking on the phone or faxing documents.
Configuration is a snap when used with Patton's Model 3324A VDSL2 Concentrator. Through the use of OAM (Object Access Method), the Model 1069 is fully configurable via the concentrator. The CPE will auto rate adapt to the highest available bandwidth allowable by the 3324A or profile set. The Model 1069 is fully compatible with any third-party VDSL2 compliant DSLAM. (click image to enlarge)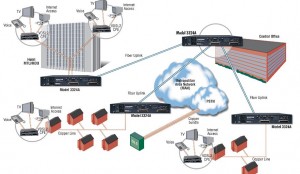 Using Patton's or any third-party DSLAM, full-service high speed links can be routed through campus and various MxU environments. VDSL2 DSLAMs aggregate the IP services delivered from the ISP or service providers with the POTS delivered from the PSTN. The POTS and Ethernet signals are then aggregated and sent over an existing 2-wire telephony grade connection. The Model 1069 VDSL2 CPE is placed in each room to split the signal back into Ethernet (data) and POTS/ISDN (voice) for delivery to the end-user. Port selectable data rates allow for a differentiation of services, and increased distance capabilities.