Patton BODi rS Bandwidth on Demand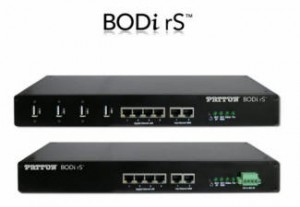 BD004/EUI Mobile Bonding/Balancing Routers. DC Power for in-vehicle Power. AC/DC adaptor for power & operation
BD007/UI Fixed/Mobile Bonding/Balancing Routers.
Internal UI Power
BD1000/UI High Availability Bonding/Balancing Network Appliance.
Internal UI Power
Combine wireless-mesh, 3G/4G/LTE and Ethernet connections, for bandwidth assurance and high survivability tailored and prioritized to fit your needs.
These units combine built-in fallback-network capabilities with uplink redundancy and WAN failover, providing our customers with full assurance of businesses-network survivability for continuity of operations.
The BODI Bandwidth on Demand units easily bond multiple WAN links into a unified Internet connection giving the fixed or mobile end user IP network survivability.

They also provide link bonding for aggregated bandwidth and load balancing for traffic management. Prevent lost revenue and wasted worker productivity stemming from Internet outages. Now you can establish a Wi-Fi mesh LAN with firewall, encryption and multi-WAN routing for truly survivable Internet connectivity.
Patton's BODi routers feature up to seven fixed/mobile WAN-line connections with redundancy and failover, VPN access-point service with 100 percent uptime.
The BODi rS family comprises three models initially: The BD007 enterprise WAN failover router, the BD004 mobile/portable network-survivability router and the Head-End-Unit (HEU) BD1000 multi-channel fallback-network VPN router and network hub.
More Bandwidth. More Reliability. More Survivability