Icron USB 4 Port Cat 5 USB 2.0 Extender
Extend USB 2.0 Over Copper

See Icron Ranger 2304 for fastest throughputs when using read/write devices such as external hard drives & for supporting a greater number of connections (up to 31 devices and hubs).
Icron USB Ranger 2204 Features
The USB Ranger 2204 is a four port USB 2.0 high speed extension solution, enabling USB 2.0 connections at up to 480Mbps over 100m/330ft of Cat 5 cabling. The Ranger 2204 provides a remote four port USB 2.0 powered hub delivering standard 500mA power and supporting all USB device types including Isochronous web cams.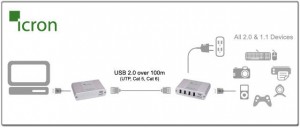 The USB Ranger 2204, and the Ranger 2200 family of products are powered by ExtremeUSB, enabled by the Icron LionsGate USB Extension ASIC. ExtremeUSB provides true USB 2.0 extension at up to 480Mbps over a variety of media, without the need of additional software drivers. A true plug-and-play solution, the Ranger 2204 is compatible with all leading operating systems, and supports all USB device types from high-speed web cams, hard drives, printers, scanners, audio devices, touch screens, digital cameras and game controllers.
Specifications
Range 330 feet (100 meters) over Cat 5e (or better) cable
USB device support High-speed devices (480 Mb/s) (USB 2.0)
Full speed devices (12 Mb/s) (USB 2.0 & 1.1)
Low speed devices (1.5 Mb/s) (USB 2.0 & 1.1)
USB hub support Any single chain can include up to 3 USB hubs plus one Ranger 2204.
USB host support EHCI (USB 2.0) and OHCI/UHCI (USB 1.1)
Maximum USB devices supported 14 USB devices or 3 USB hubs with 11 USB devices.
AC adapter(s) Input: 100/240 V AC, 50 – 60 Hz, 600 mA maximum
Output: 5 V DC, 3 A
AC adapter connector 1.7 mm centre-positive jack
Power available to USB device at REX unit 500 mA each port
LEX unit USB connector 1 x USB Type B
LEX unit Link connector 1 x RJ45
REX unit Link connector 1 x RJ45
REX unit USB connector 4 x USB Type A
LEX unit dimensions 3.94″ x 2.99″ x 1.02″ (100 mm x 76 mm x 26 mm)
REX unit dimensions 3.94″ x 2.99″ x 1.02″ (100 mm x 76 mm x 26 mm)
LEX power consumption 500 mA maximum
REX power consumption Approx. 500 mA (No Load). 2.5A (Full load)
System shipping weight 2.0 lbs. (0.9 kg)
Operating temperature range 0°C to 50°C
Storage temperature range -20°C to 70°C
Operating humidity 20% to 80% relative humidity, non-condensing
Storage humidity 10% to 90% relative humidity, non-condensing
Regulatory testing FCC (Class B), IC (Class B), CE (Class B)
ESD rating EMC EN-61000-4-2 8kV Contact, 16kV Air
We have the best pricing on Icron products