The EtherSeries FT-6602 Encrypted Ethernet Bridge is a simple, easily configured tunneling device containing three Ethernet interfaces. Two or more bridges connect using standard TCP/IP using any insecure IP connection path. They tunnel all Ethernet packets from the secure interface of each device to the other devices using a FIPS certified encryption module and AES encryption.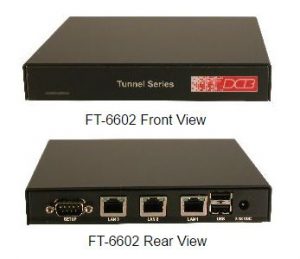 The bridge transports all valid Ethernet protocols. It provides a virtual private network by bridging the LANs with an IP tunnel that may be encrypted using the AES algorithm. Filtering is available based upon IP or MAC addresses and Protocol types. 802.1Q VLAN tagging is supported. When used in its simplest mode, two bridges might "extend" a secure LAN segment to another physical location via an insecure path. They may be used behind firewalls and NAT routers. The FT-6602 includes the ability to create self-signed certificates. The certificate authority is stored on a USB dongle, that allows the certificates to be shared between FT-6602 devices as well as web browsers used for configuration.
Features
Utilizes FIPS certified encryption module
The FT-6602 creates encrypted tunnels
Industrial temperature -20º to +70º C
AC and DC power supply options
10/100BaseT ethernet ports
Each port is independent
Easy to setup and maintain
Server unit supports up to 25 client FTs
Operates as server, client, or client & server
Extensive statistics, logging and diagnostics
Tunnels at Layer 2, including multicast
Ethernet to ethernet
Bridge/Tunnel supports 4,096 MAC addresses
Remote PCs appear to be on the local network
Bridges 802.1Q tagged V-LAN trunks
Extensive filtering on MAC, IP, and Protocols
Common Applications
VLAN – Ideal for tunneling multiple VLAN segments through an external IP network
Tunneling multicast voice and video through public and/or private networks
Serving remote offices over tunneled networks to ease network administration, provide remote file and printer access
Utilities – Gas and oil production, pipelines, electric generation, transmission and distribution
Retail – Stores, kiosks, credit card machines — especially those using wireless links
Law Enforcement – Small remote offices
Medical – AES encryption of the FT-6600 meets HIPAA requirement for securing data over open networks such as the Internet. The medical industry is mandated by HIPAA to meet HIPAA privacy and security requirements over open networks.
Real Estate – Connecting to and updating the database of listed homes.
Field sales personnel working out of the home, hotel rooms wired for high speed Internet access.
Financial industry – Additional security on internal corporate links, branch offices, ATM machines, key personnel remote secure access.
Remote office with more than one device, with the ET-6600 shared with switch or hub.
Added security within a large corporate network
Office to Home
2 nets at each end, bridged via the Internet
Remote network monitoring via the Internet
FT-6602 Encrypted Ethernet Tunnel Appliance with Three Ethernet Ports
FT6602-12VDC 9-18 VDC external power supply option for FT-6602
FT6602-24VDC 18-36 VDC input external power supply option for FT-6602
FT6602-48VDC 36-72 VDC external power supply option for FT-6602
FT6602-125VDC 125 VDC external power supply option for FT-6602
FT-6630 Encrypted Ethernet Tunnel Appliance with Gigabit Ethernet Ports
We are DCB's leading US distributor.
Contact us for a quote.