The FRM220A-MSW-202 is a two fiber port (100/1000) plus two copper port (10/100/1000) gigabit Ethernet switch based on OSI Layer 2 switch technologies that includes 802.1Q Tagged VLAN, 802.3ad link aggregation, 802.1D/W Spanning Tree Protocol, 802.3x Flow Control and is compliant with MEF 9 &14. Additionally the MSW-202 supports 802.1ag and Y.1731.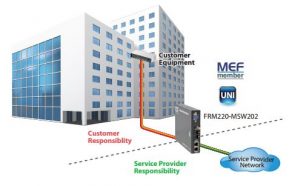 With its own embedded processor, the MSW-202 supports stand-alone management via IP (Telnet/SSH, SNMP & HTTP/HTTPS) or in-band management via 802.3ah-OAM protocol when connected to another MSW-202 in point to point or as a CPE device to an MSW-202 mounted in the FRM220 or FRM220A managed platform converter racks.
Features
1. Four port L2 switch
2. Full Tag and Port based VLAN support
3. Port Trunking (Link Aggregation)
4. Bandwidth control
5. Spanning Tree
6. 32bit embedded CPU for stand-alone management
7. 802.3ah-OAM in-band management and 802.1ag end-to-end
8. Firmware upgrade via HTTP
9. Telnet/SSH, HTTPS, SNMP and OAM management
10. Dying gasp
11. Auto Laser Shutdown
12. RMON counters
13. NTP client
14. Performance per Y.1731
15. Complies with MEF 9, MEF 14
Specifications
Optical Interfaces: 2 x dual-speed (100/1000) SFP ports
Electrical Interfaces: 2 x 10/100/1000 RJ-45 Ethernet ports Auto-negotiation or forced Auto-MDIX
Standards: IEEE802.3, 802.3u, 802.3z, 802.3ab, 802.1Q, 802.1ad, 802.3x,
802.1D, 802.1W, 802.3ah, 802.1ag
Supports MEF9, MEF 14; EPL EVPL
Supports 8K MAC address table
Supports 256 active VLAN groups
Supports IGMP snooping
Supports DHCP snooping
Supports SNMP V1,2,3
Supports MAC/Port/802.1p/Diffserv QoS
Supports Ethernet MTU to 9600 bytes
Supports IPv6
LEDs for: Power, FX-1/2 Link, UTP-1/2 link/speed 100/1000, Test
Power: 12VDC
Power Consumption: <12W
Temperature: 0~50°C (working), 0~70°C (storage)
Humidity: 20~80% non-condensing
Dimensions: 155 x 88 x 23mm (D x W x H)
Weight: ~180g
Management features
This device has an embedded processor to support stand-alone
management features. This model has no on-board DIP Switch which can be used to configure the device for stand-alone operation. All configuration must be done through a stand-alone chassis with DB9 serial console port or via TCP/IP from Telnet/SSH, HTTP(S) or SNMP.