A Complete Ethernet Extender Solution End-To-End

► Delivers Ethernet LAN Extender over SEVEN times further than IEEE 802.3 specs.
► Instant ON – Ideal for Mission Critical LAN Uptime and Recovery.
► Leverage any 1-pair wiring (CAT rated or Coax) up to (2,500ft) or (762m).
► Supports up to 9 individual CPE units off the same 1-pair of wire. NO Competitor product can do this.
► Secure and Encrypted Communications between End-To-End devices.
► Any CUSTOM options available at time of order.
► ENABLE-IT USA AS9100D Aerospace Quality Factory Floor Direct Same Day Shipping.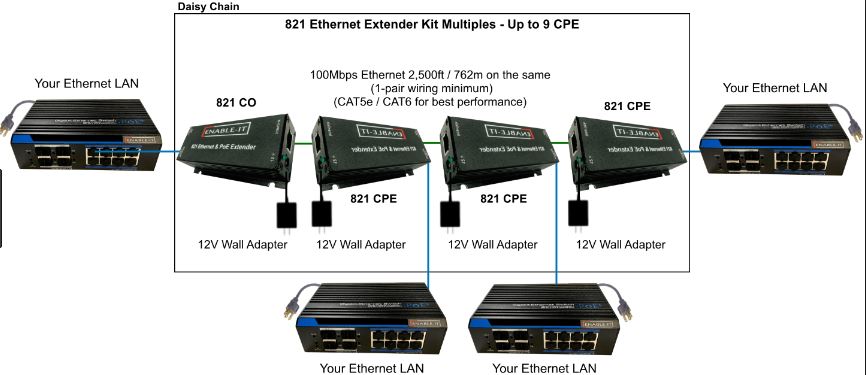 DESIGNED & MADE IN THE USA WITH QUALITY AND PRIDE.
PROFESSIONAL BUSINESS GRADE PERFORMANCE,
RUGGEDIZED EXTREME TEMPERATURE ENCLOSURE,
ENCRYPTED AND SECURE.
► Don't risk your business data to cheap, low quality imported LAN equipment!
► Protect the value of your LAN data and company secrets.
► Beware of cheap competitors as a lot of their LAN devices are banned in the USA due to spyware.
► Insist on the Enable-IT Brand, trusted by security experts worldwide.
IProduct UPC: 896741002485