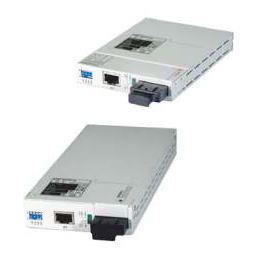 Here is the DCE/FIBER-T-2PK
The 2-Pack kit of the DCE Fiber-T T1 Extender units.

Fiber SC, Multimode, 2Km T1 Extenders
Now you can extend a line / smart-jack to your T1 equipment over simple multimode fiber.
Put one DCE Fiber T1 Extender at each end of your fiber run, and you are in business.
These will extend a T1 line using multimode fiber up to 2Km (1.3mi) distance.
These units are equipped with dual SC type optical connectors
T1/E1 RJ-45 (USOC RJ-48C) to Fiber converter
User selectable line code setting, Far End Fault (FEF) setting, Loop back test, Unframed (transparent clear channel) , Support AMI or B8ZS/HDB3 line codes
Extend T1 Over Fiber
Standards: T1: ITU-T G.703, G.704, AT&T TR-62411, ANSI T1.403
Interfaces: RJ48c 100ohm balanced T1 connector and dual SC 155M fiber port
Operating wavelength: 1310nm multimode
Operating distance: 2Km on 62.5/125um fiber, works also on 50/125um fiber
Optical connector: SC dual type (versions with ST or FC optical connectors are available on request)
Front LEDs: Power, Fiber Link, T1 Link, Test mode
Power: External 90-260V AC switching adapter 9VDC@1A with NEMA1-15(2 blades only), US type main plug
Temperature: 0 — 50°C (Operating); 0 — 70°C (Storage)
Humidity: 20 — 80% non condensing (Operating); 0 — 90% (Storage)
Consumption: less than 5W
Dimensions(WxDxH): 85.6mm x 122.6mm x 20mm
Weight: 310g (without AC adapter)
Compliance: CE, FCC Class A
MTBF: 65,000 hours
DCE/FiberT-2PK 2-Pack Fiber T1 Extenders
(Single Mode Fiber units available)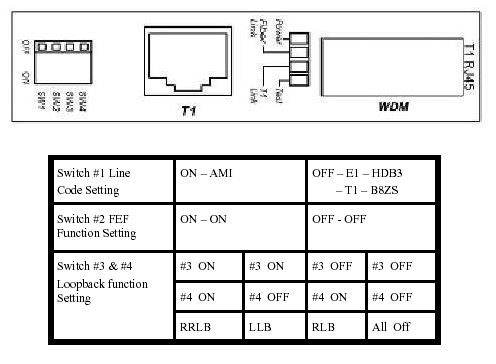 Please note you may need to install a T-1 cross over cable if the remote device is DTE interface. Our techs can help you with any installation questions you may have while in the field.