Analog Voice Adapter
FXS, FXO, E&M, or Raw Audio
Over Serial or Ethernet Links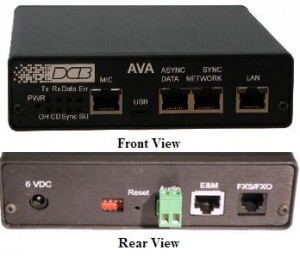 Transport Telephone or Analog Voice
Using Synchronous or Asychronous Serial or Ethernet Links
The AVA-01 is a one voice port adapter available with FXS, FXO, 4-wire E&M or a push-to-talk interface for a speaker-microphone. The AVA-01 is designed for simplicity and ease of setup. The unit can be setup using a serial terminal interface, via an RS-232 or USB connection.
The AVA-01 provides exceptional compressed voice quality at speeds ranging from 2400 to 9600 bps. The compressed voice is based on the same chip set used for Project 25 (P25) radio interoperability. This is a voice chip set that has a very long market life, which translates to a long market life for the AVA. AVA voice choices also includes 56K PCM. The choice of PCM make the AVA-01 suitable for applications that require tone control, such as links to radio transmitters.
The AVA-01 can be ordered with FXS/ FXO/4-wire E&M/PTT or only push-to-talk (PTT) audio interfaces. PTT is included with the FXS/FXO/E&M units. The interface is specified at the time the unit is ordered. The PTT audio interface is supplied with a microphone and speaker for PTT only orders, and as an add-on item for FXS/FXO/E&M units. The speaker circuit has a .25 watt amplifier.
The AVA-01 can also operate over Ethernet networks using TCP/IP. For Ethernet operation, order the "-E" Ethernet option.
All versions include an additional asynchronous RS-232 user port. Via this asynchronous user port, AVA supports both SCADA polling and compressed voice on multidrop networks of 9600 bps and faster. AVA resolves the contention between the polling and the voice. Voice with polling on multidrop circuits uses the push-to-talk mode. Voice is broadcast from the host to all remote AVAs, and from one remote at a time to the host. This mode allows control room to substation conversations without the need for cell phones or substation voice phone lines. (Point-to-multipoint firmware is a future option.)
Applications for the AVA-01
Utility substations
Office to home analog extensions
Audio over data links for remote voice logging
Two-way radio audio over slow speed data links
Gas and oil production, pipelines
Sales personnel at home or traveling
Phone extensions over wireless links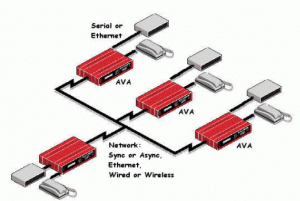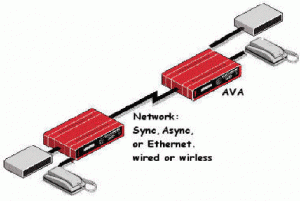 General
One asynchronous serial port with speeds up to 57.6 Kbps, One asynchronous/synchronous serial port, One optional 10/100BaseT Ethernet port.
RS-232 delivered on RJ-45 connectors, DTE interface; DE-9 and DB-25 adapters available
Network speeds to 256 Kbps synchronous or 230.4 Kbps asynchronous full duplex
May be configured via RS232 serial port or USB connection
Firmware update in the field via USB connection
Protocol Features
Voice channel may be configured for bit rates between 2250 and 9600 bps, 32Kbps ADPCM, or 64Kbps PCM
Point-to-point (point-to-multipoint firmware future option)
Serial RS232 or USB PC/terminal configuration and management
Configurable jitter buffer
Voice and one asynchronous RS-232 channel may be multiplexed over the digital connection
Use over TCP/IP with the Ethernet option
Indicators
Power and data activity
LAN link and activity for Ethernet models
Controls
Reset, configuration switches
Physical/Electrical
Standard unit power requirements: 6VDC, 600 ma, Unit is supplied with 120-240 VAC external power supply
12, 24, or 48 VDC optional internal power supply; optional 125 VDC external power supply
7.25" x 5.5" x 1.75"
One pound
Environmental
Operational Temperature: – 40 to +85 C, non-condensing humidity
Note: Use one of DCB's ethernet serial server units for each AVA, when used over ethernet networks.
Each AVA-01 includes one USB configuration cable and one serial-network (DB-25) cable.
Item Number Description
AVA-01 AVA Audio Voice Adapter w/ 120VAC power supply
AVA-01/12VDC AVA Audio Voice Adapter with 9-18 VDC power input
AVA-01/24VDC AVA Audio Voice Adapter with 18-36 VDC power input
AVA-01/48VDC AVA Audio Voice Adapter with 36-72 VDC power input
AVA-01-E AVA Audio Voice Adapter w/ Ethernet interface, with 120VAC power supply
AVA-01-E/12VDC AVA Audio Voice Adapter w/ Ethernet Interfact, with 9-18 VDC power input
AVA-01-E/24VDC AVA Audio Voice Adapter w/ Ethernet interface, with 18-36 VDC power input
AVA-01-E/48VDC AVA Audio Voice Adapter w/ Ethernet interface, with 36-72 VDC power input
9501030 External 125 VDC power supply for standard AVA Audio Voice Adapter
9902096 1U Rack Mount Bezel for one AVA-01
9902095 1U 3-unit Rack Mount
9801036 Spare USB A to B configuration cable (One comes with the unit.)
9802086 AVA NETWORK TO SS-1R ADAPTER (Used to connect the AVA to an EtherPath SS-1)