Serial Port IP Router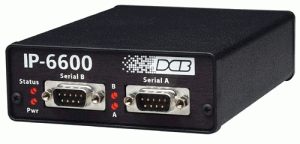 IP-6600 Router with Two Async Ports, Two LAN Ports, 120VAC power input
IP6600-12VDC 9-18 VDC internal power supply option
IP6600-24VDC 18-36 VDC input internal power supply option
IP6600-48VDC 36-72 VDC internal power supply option
IP6600-125VDC 125 VDC external power supply option
* Remote Industrial Control Communications
* SCADA WAN Interface
* Remote Management via ethernet Access
* Wireless Modem Router
* DGPS Information Routing
* Remote SNMP Reporting and Management
* Automated Remote Power Meter Reading
* Remote Location VOIP Connections
The IP-6600 is an industrial rated router featuring two serial ports and two ethernet LAN ports.
Since each ethernet and serial port is independent, the router has many uses in addition to the commonly used dial-in, dial-out and asynchronous LAN connection modes. It is commonly used as an easily configured stand-alone firewall router using NAT, port filtering, and address filtering.
The two RS232 serial ports operate at asynchronous speeds as low as 300 bps and as high as 230 Kbps. They may be used to link two separate remote sites with leased or dial connections, one port used for an ISP connection and the second for dial-in, each used for combined dial-in and dial-on-demand dial-out, or other convenient combinations.
The two ethernet LAN connections (one operating at 10BaseT and the other auto-switching at 10 or 100BaseT) may be configured on different LAN segments for DMZ routing, firewalling and port/address filtering, or used as a DSL or Cable modem adjunct for Network Address Translation (NAT) or PPPoE.
The IP-6600 works well with DSL, cable or dial modems, leased line modems, CDPD or GSM modems, wireless links, satellite modems, the DCB DA-56 DSU, or even simple line drivers.
Flexibility is the key. Routing may be configured between any combination of interfaces with full-featured port or address filtering, port forwarding, and NAT. The same port may even be configured for dial-out using dial-on-demand while accepting dial-in calls from portable computer users. Its easily configured for stay-online dial connections.
Configuration is quick and easy using a web browser. The router uses three different configurations: a stored configuration, a working (running) configuration, and a pending configuration. This method allows temporary configuration changes, testing, and remote configuration changes even via a PPP link on the router. Configurations may be saved on a PC for later use, and the config file is editable on a PC.
On-board tools make network monitoring and troubleshooting convenient. Tools include a packet header sniffer, traceroute, ping, and dial tools (force a dial, force a disconnect). Logging may be configured as standard or with extreme details showing negotiations, modem responses, etc. .
One serial port may be used as a UDP terminal server. This functionality is compatible with DCB's EtherPoll products and is ideal for remote industrial installations.
The APS-01 remote AC power control easily integrates with the IP-6600. Remotely power up, down, and reboot remote equipment using the IP-6600 management web interface by plugging the APS-01 into the second serial port.
The IP-6600 is straight-forward, easy to configure and maintain. The IP-6600 has the features you want without the complexity.
Two asynchronous RS-232 serial ports:
* DE-9P (PC-9pin) connectors
* Speeds to 230 Kbps
* Or one V.90 Modem and one RS-232 port
Two ethernet ports :
* One 10/100BaseT
* One 10BaseT
Protocol Features
* PPP, PPPoE, IP, DHCP (Server & Client), TCP, UDP, ICMP,
* Authentication: PAP, CHAP, MSCHAP (V1 and V2)
* Dial-On-Demand, inbound and outbound PPP (and combinations)
* DNS Proxy Server
* Auto-failover ISP dial backup dialing
* EtherPoll UDP terminal server functionality on Serial-A
* Auto-Disconnect timers
* Persistant Connection Option – Always on-line
* Network Address Translation (NAT), port filtering, port forwarding, address filtering firewalling
* Web browser configuration and management
* Default IP address: 192.168.0.1
Approvals:
* FCC
* UL (on 120VAC power supply
* Power Supplies have additional certifications as needed
* CE
* RoHS models available
Indicators
* Front – Power, Status, port activity (2)
* Rear  LAN connection (2), LAN activity (2)
Controls (DIP switch:)
* Setup (initial setup using serial terminal)
* Reset
Physical/Electrical
* Power requirements: 6 VDC, 500 ma standard(measured consumption of 3 watts)
* 12, 24, 48, 125 VDC and 240 VAC options are available
* Supplied with 120 VAC external power supply
Environmental
* Operational Temperature: -40 to +70 C
* Storage Temperature: -50 to +75 C
* Humidity: <95% Non-condensing
* Power Supply Options may affect temperature specifications