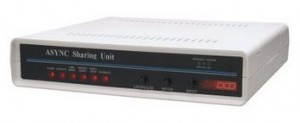 The DCB PSU Poll Sharing Unit makes it possible to share up to four polling host computers to as many as four different device ports, connecting to four or more different networks. Networks can be a private line, phone company lines, wireless networks, or any combination of networks. The Poll Sharing Unit uses RTS/CTS or buffering and timeouts to resolve contention between the multiple host computers.
The DCB Poll Sharing Unit has four Host ports and four Device ports and optional modem for host port backup. Each port can be set to a different speed, from 1200 to 38,400 bps (port to port speed conversion). The ports are RS232 async. RS422 port interface converters are available.
Polls coming into a Host port are sent out one or more of the four Device ports, mapped by the user on a per port basis. For example, polls coming in Host port 1 may be mapped to all 4 Device ports, while on Host ports 2, 3 and 4, data is mapped to a single Device port.
The Poll Sharing Unit has a per Host port poll timeout and a per Host port inter-message timeout. Polling data coming in a Host port is sent to the selected Device port(s). Any polls coming in on other Host ports are buffered until the first poll out is answered or after the poll timeout expires. Only one Host port at a time may send a poll out a Device port.
Another method of selecting ports is using RTS/CTS RS-232 control leads on the Host ports. The PSU constantly scans all ports for Request to Send (RTS). When RTS is asserted on the Host port, the Poll Sharing Unit returns CTS to the host computer, allowing it to send out a poll. The poll is sent out the mapped Device ports. No other Host computer port will get CTS from the Poll Sharing Unit until the first Host port gets a poll response back from a Device port, or the poll timeout expires.
All port are asynchronous RS232
Rates: Async ports 1200 to 38.4 kbps (9.6 kbps default)
Application: Four Host ports, four Device ports
Optional modem for host backup port
Port connectors are 8-pin RJ45
RJ45 to DE-9 and DB-25 adapters available
RS232 to RS422 adapters available
The four Host ports are mappable per port to any of the device ports
Buffered combiner mode using inter-message timer default
Poll timeout 100 to 30,000 milliseconds, 2000 milliseconds default
Inter-message timer, 5 to 1000 milliseconds, 5 ms default
1000 byte host port poll message buffer
Optional RTS/CTS control setting
Indicators (front panel)
Front panel push button for reset
RTS/CTS contention control or combiner mode
Side door accessible firmware cartridge for installing firmware upgrades
Setup via the rear panel setup port.
Use setup port to define port speeds, mapping, etc.
Data Port
Interface: RS-232, V.24, speeds up to 38,400 bps
Connector: RJ-45 per EIA/TIA 561 pin outs
Physical/Electrical
100-250 VAC 50-60 Hz external supply
10.75 x 9.75 x 2.25 ¼"
Optional 12, 24, 48 or 125 VDC power
Optional rack mount assembly
Operational Temperature: -40ï'° to +75ï'° C
Storage Temperature: -50 to +75 C
Humidity: <95% Non-condensing
PSU-08 PSU w/ 4 host and 4 device ports, 100-250VAC powered
9501034 Optional 12 VDC (9-18 VDC) power supply in place of standard power supply
9501025 Optional 24 VDC (19-36 VDC) power supply in place of standard power supply
9501024 Optional -48 VDC (36-72VDC) power supply in place of standard power supply
9501029 Optional 125 VDC power supply in place of standard power supply
BPF-125VDC Optional 220-240 VAC power supply in place of standard 120VAC power supply