FSK Analog Asynchronous Modem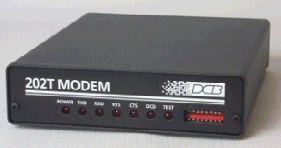 202T-SA DCB 202T Modem – Standalone
202T-R DCB 202T Modem – Rackmount
20S Rack DCB 20 Slot Rack w/ power supply
1U Rack DCB Rack mount 1 unit wide
1U Rack-3 DCB Rack mount 3 units wide
You can always call for a quick quote.
If you like the price, you can order right over the phone.
The DCB 202T modem operates at 0 to 1200 bps asynchronous, with FSK modulation. It uses the latest DSP modem circuitry to insure excellent performance and future availability. It has 900 hz soft carrier turn off for multidrop and an anti-streaming option. 7.25″ half card size, standalone and custom OEM board configurations are available. The pc card version uses the internal PC ISA bus only for power from the pc bus. The PC card fits into a 20 slot rack mount chassis that is only 7″ high. The phone line connector is an RJ-11 for 4-wire leased line operation or 2-wire half duplex leased line operation. Transmit is on positions 2 and 3, receive 1 and 4 of the 4 position RJ-11connector for 4-wire, on positions 2&3 for two wire. The modem has a push/push switch for local digital loop on or off. The loopback switch is located on the rear of the unit, next to the DB-25 terminal connector.
Asynchronous RS-232

4-wire, full duplex or 2-wire, half-duplex line application

900 Hz soft carrier turn off

Anti-streaming

Standalone or rack mount

High stability transmit and receive frequency

Ruggedized for full temperature range

Quiet multi-layer board

Fully compatible with other 202T's
Analog full duplex, 4-wire, 600 ohm balanced, Frequency Shift Keying

Analog half duplex, 2-wire, 600 ohm balanced, Frequency Shift keying

Mark-1200 hertz, Space-2200 hertz, Speed 0 to 1200 bps

900 Hertz Soft Carrier Turn Off for multidrop operation

Transmit level control 0 dBm or -16 dBm

Receive level 0 dBm to -42 dBm

Carrier Turn-on time less than 12 msec

Will drive up to 30 Km of cable depending upon wire gauge

Switched carrier or constant carrier operation (RTS forced on or terminal controlled)
DCB 202T Digital Interface
RS-232, DB-25S

Signals are Tx, Rx, RTS, CTS, DSR, DCD

RTS/CTS delay is 12 or 20 ms in switched carrier mode or RTS can be forced on

Rx data is clamped to mark when no receive carrier detect is present.

202T Modem – FSK Analog Modem, Async
DCB 202T Controls and Indicators
Power, Tx Data, Rx Data, RTS, CTS, DCD, Test

Digital loop via rear panel switch and front DIP switch

Controlled carrier (with RTS/CTS delay) or constant carrier with RTS/CTS on

anti-streaming option (8 seconds), Loopback or normal operation

Transmit level – 0 db or -16db, 900 Hz Soft Carrier turn off On or Off
DCB 202T Physical and Electrical
-40C to +70C operating temperature range, PC ISA bus format or standalone version,

PC bus for power and ground only, standalone unit uses 110V wall mount supply

Half size PC card, 7.25″D x 4.25″H

Stand alone: 5.5″ W x 7.375″D x 1.5″ high, 110VAC wall mount supply (9VDC, 500 ma)

Other DC power supply voltages, 12, 24, -48, 125 VDC, available on special order

A 1.5″ x 19″ fixture available to rackmount up to 3 standalones in a single 1U height

20 slot rack chassis on slide guides is 19″W x 16″D x 7″H, 110VAC 250 W power

 supply