Data Connect Starcomm ST1442E 1442E-003-2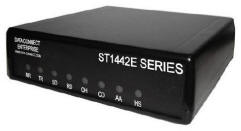 For data center and remote network applications that require low-speed connections, the Data Connect ST1442E series modem incorporates the latest advances in modem design to deliver efficient and reliable performance.
The ST1442E series modem has been developed to meet the most stringent environmental and performance demands of the commercial and industrial application. Every relay, transformer, capacitor, switch and connector is selected for its ability to withstand industrial environmental demands.
The industrial-rated unit may be housed in an optional metal enclosure and is built to meet the most stringent criteria. Temperature ratings, for example, range from -40 Degrees Celsius to + 85 Degrees Celsius. Versatile power supply options will meet most industrial applications. At connect speeds of 14400bps and below, our patented Quick Connect features reduce modem connect time by as much as 50%.
The 1442E series modem is available in commercial and industrial single-port stand-alone configurations. Rackmount configurations are also available.
All models offer an AT compatible command interface and support the following modulation standards: V.32bis, V.32, V.22bis, V.22, V.23, V.21, Bell 212A and Bell 103J. The following modulation standards are supported for fax: V.33, V.29 and V.27. Both synchronous and asynchronous DTE are supported.
You can always call for a quick quote.
If you like the price, you can order right over the phone.