Data Connect ANS208
Industrial Ethernet Switch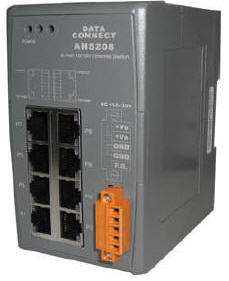 The Data Connect ANS208 units are ideal for SCADA, Telemetry, Vehicle Detail Tracking, Utilities, Metering, Display Signs, Traffic Control, and many other applications.
Features:
Automatic MDI / MDI-X crossover for plug-and-play
Each port supports both 10/100 Mbps speed auto negotiation
Store-and-forward architecture
Full duplex IEEE 802.3x and half duplex backpressure flow control
2 Gbps high performance memory bandwidth.
Supports +10 ~ +30V DC voltage
Supports operating temperatures from –30 ~ +75 ℃
DIN rail mount for industrial usage
Specifications:
Compatibility:IEEE 802.3, IEEE802.3u, IEEE802.3x
Interface: 10/100 Base-T
Port: 10/100 Mbps x 8 (Shielded RJ-45 Jack)
Provides LEDs for network and power monitoring
ESD Protection: 8KV Contact Discharge 15KV Air-Gap Discharge
Cables: 10 Base-T (Cat.3, 4,5 UTP cable; 100m Max.) 100 Base-T (Cat.5 UTP cable; 100m Max.
Dimensions: 64 x 110 x 97.5 mm (W x H x D)
Power requirements: +10 to +30V DC (Removable Terminal Block)
Power consumption: 0.12A@24Vdc; +/- 5%, arrowed.