High Speed Ethernet Extenders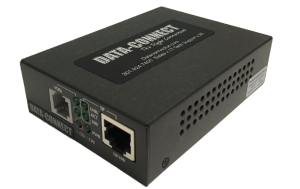 The DCE 2178HSEE, used in pairs, will extend Ethernet with just one pair of copper wire. With these  units you can easily connect two Ethernet networks together with a maximum data rate of 100/100Mbps (depending on distance) without breaking the bank.
These Ethernet Extender kits use one 10/100Mbps RJ-45 port for Ethernet and an RJ-11 connector for the line between the units. They also come with a splitter for telephone (POTS) service, so voice and data communication can be shared simultaneously based on the existing telephone wire. A Din Rail Mount kit is also available.
The 2178HSEE has impressive performance specifications with two VDSL2 profiles available (17a and 30a) , depending on the distance yoiu need to traverse: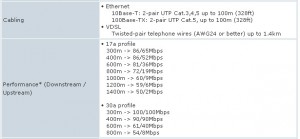 FEATURES AND SPECIFICATIONS:
One box design — local and remote selectable via DIP Switch
Complies with IEEE 802.3, 10Base-T, IEEE 802.3u, 100Base-TX and IEEE 802.3x, Flow control E. standards
DMT (Discrete Multi-Tone) line coding
Half duplex Back pressure and IEEE 802.3x Full Duplex Pause frame flow control
One RJ-11 connector for VDSL port with VDSL connection, additional Splitter for POTS connection
Voice and data communication can be shared simultaneously based on the existing telephone wire
One 10/100Mbps RJ-45 port, Auto-Negotiation and Auto-MDI/MDI-X
Supports up to 1536 bytes packet size, IEEE 802.1Q VLAN tag transparent
VDSL2 stand-alone transceiver for simple bridge modem application
Plug-and-Play
Selectable target profile and target SNR margin
Supports extensive LED indicators for network diagnosis
Compact in size, easy installation