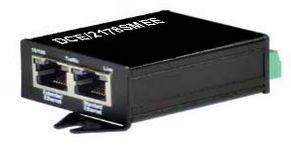 DCE/2178SMEE is the perfect Ethernet extension solution where size matters. It can be integrated into existing products or to fit into very small spaces.
Dimensions: 0.97×1.75×2 in., 2.5×4.4×5 cm (H x W x L)

Full bandwidth transmission is maintained over the entire operational distance for both uploads and downloads with virtually no packet loss.
10BaseT: up to 3,000 ft. (914 m)
100BaseT: up to 2,100 ft. (640 m)
The Data Connect 2178SMEE will pass through PoE power, up to 60W and has a temperature range between -40°C to +75°C.
The Data Connect 2178SMEE runs on 12 VDC and can easily fit inside most cameras housing and junction boxes.
APPLICATIONS (click on image to enlarge)

Extending Ethernet distances beyond Ethernet 100 m limit
Retrofit Twisted Pair analog CCTV installations into Digital system
Providing high power PoE to PTZ cameras at long distances
CCTV System for Casinos, Airports, School Campuses
SPECIFICATIONS
Electrical
Ethernet Interface: Standard 10/100BaseT
Data Rate: Auto select 10/100 Mb/s Full speed / full duplex at maximum rated distance
Twisted Pair: 100 Ohm +/- 20%, Cat5 or better
10BaseT: up to 3,000 ft. (914 m)
100BaseT: up to 2,100 ft. (640 m)
Power Supply: 12 VDC, 1.8 W with POE AF/AT & 1.5 W with external power supply
Status LEDs: Power On
Standard Ethernet: Traffic, Link
Extended Ethernet: Traffic, 10/100BaseT
Connectors: Ethernet Interface: RJ-45 Connector
Extended Interface: RJ-45 Connector
Power: 2-pin Terminal Block
RFC: 2544 TCP/IP Packet Transmission
Compatible with: IEEE 802.3af PoE, IEEE 802.3at PoE
RFC: 768 UDP, 2068 HTTP, 793 TCP 791 IP, 1783 TFTP, 894 IP over Ethernet
PoE Compatibility: IEEE 802.3af, IEEE 802.3at
Jumbo Frame Support: Yes
Regulatory
FCC: Part 15, Sub
Emissions: EN 5502:2006+A1:2007, EN 61000-3-2:2006+A1:2009+A2:2009 EN 61000-3-3:2008, EN 55024:1998+A1:2001+A2:2003
Safety: CE
Environmental: RoHS
Environmental
Humidity: 0 to 95%, non-condensing
Temperature: Operating: -40°C to +75°C per NEMA-TS2 testing
Storage: -40°C to +85°C
Mechanical
Dimensions: 0.97×1.75×2 in., 2.5×4.4×5 cm (H x W x L)
Weight: 0.15 lb, 67 g
Material: Extruded Aluminum
Accessories
12 VDC wall-mount power supply (optional)
2178smee